Oehring, Helmut
:
Requiem (with Iris ter Schiphorst)
(1998)
55'
for three counter-tenors, 12 instruments and electronics
Music Text
English
nach den 9 Psalmen: O Ye Tongues aus The Death Notebooks von Anne Sexton
Scoring
basset hn.dbcl-3tpt.2trbn-perc(2)-prepared pft(=sampler,harmonium)- gtr(=elec.gtr)-elec.bass gtr-vln.vla.vlc-live electronics.
Abbreviations (PDF).
Territory
This work is available from Boosey & Hawkes der ganzen Welt.
World Premiere
13/10/1998
Opera National, Paris
Ictus Ensemble / Georges-Elie Octors

Press Quotes
English
AUFLÖSUNG DER WERTE
Die Wahl eines Requiems als Antwort auf den Auftrag des Festival d'Automne ist nicht überraschend. Seine Ausführung ist es umso mehr. 15 Instrumentalisten (einige mit einer ausgeklügelten elektronischen Ausrüstung versehen) und drei Sänger liefern sich energisch der verrücktesten Auflösung musikalischer Werte dieses Jahrhunderts aus. Totengräber einer Kultur des Werkes, behalten die Komponisten von der Musik nur die Manifestierung durch Schwingungen (Wellen?), wenig moduliert, nicht systematisiert (in Reihenfolge), vollständig befreit. Schwingung (?) des Trauermarschs, von zwei Posaunen intoniert (Original Mozart) über einem alptraumhaften Pulsieren des Tutti; Schwingung eines Volkszugs (pathetische Fanfaren) und allgemeine Zeichen (Sirenen, Larsen-Effekte,woraus ein einsamer Gitarrist auftaucht) Schwingungen des Grauens (zusammengestellt mit Tönen verwandt einer Menge von Bösen Geistern); Schwingungen der religiösen Verzerrungen (Synthesizer mit Eigenschaften eines Harmoniums.)
Vom Anfang bis zum Ende konfliktreich – man wird's verstanden haben – wird diese Requiem nicht zum Seelenfrieden verhelfen. Dennoch verschafft es einen moralischen Trost, wo sich doch mehr und mehr für die zeitgenössische Musik die Frage der Bezuglosigkeit der Sprache stellt.
(Pierre Gervasoni, Le Monde, 18.10.1998)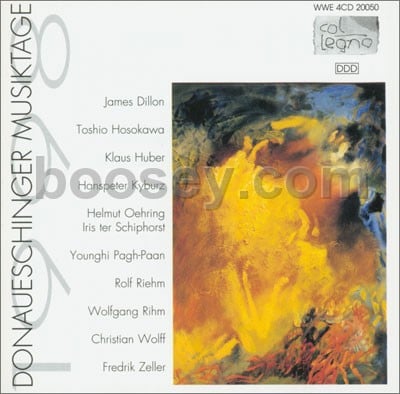 Mailing List
Sign up for news updates and offers via email
SIGN UP
ONLINE SCORES