Michel van der Aa: Four Major U.S. Premieres in 17–18 Season
(August 2017)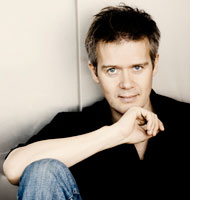 Michel van der Aa's operatic and orchestral works are showcased at prestigious American venues this season after acclaimed world premieres in Europe, with performances at Dallas Opera, Carnegie Hall, Lincoln Center, and Park Avenue Armory.
The 2017–2018 season fixes a bright spotlight on Dutch composer-filmmaker-director Michel van der Aa, whose works in both the orchestral and operatic spheres receive prominent US premieres at major institutions. Premieres include his
Violin Concerto
, performed by Janine Jansen and The Philadelphia Orchestra;
Shelter
, presented as part of Lincoln Center's White Light Festival with the Netherlands Chamber Choir; as well as Van der Aa's two most recent film-operas
Blank Out
(at Park Avenue Armory) and
Sunken Garden
(at Dallas Opera), whose integrated 3D film components have completely changed the way audiences experience and engage with opera.
Blank Out
(US Premiere)
Sep 21–27 | Park Avenue Armory, New York
Park Avenue Armory stages five performances of this multimedia chamber opera for soprano and interactive 3D film. The New York performances follow enthusiastically praised productions in 2016 and 2017—hailed as "unusually beautiful
"
(
NRC
) and "wonderfully fluent and effective" (
The Guardian
)—in the Netherlands, Italy, China, Finland, Germany, and Switzerland.
Based on the life and work of South African poet Ingrid Jonker, the opera depicts a dialogue between a man and his mother as they reconstruct a traumatic event. The drama unfolds as live performance interacts with film (both taped and live) that is projected on a screen onstage. Soprano Miah Persson performs live in this dynamic and beautiful multimedia production, accompanied by baritone Roderick Williams on film.
>
Park Avenue Armory website
Shelter
(US Premiere)
Nov 9 | Lincoln Center White Light Festival, New York
In November, Lincoln Center presents the US premiere of Van der Aa's new work for a cappella chorus,
Shelter
, as part of its annual White Light Festival. The piece is performed by the Netherlands Chamber Choir and conductor Peter Dijkstra, who also give the world premiere of the work on September 1 in the Netherlands at the Festival Oude Muziek.
Shelter
is a setting of
Psalm 5
from
Tehillim
(
Book of Psalms
).
The US performance of
Shelter
is presented as part of Lincoln Center's ambitious 12-concert choral project "The Psalm Experience," which features four world-renowned choirs performing all 150 psalms in settings by 150 different composers, from Bach and Handel works to new commissions by today's composers.
>
Lincoln Center website
Violin Concerto
Mar 8–10 | Kimmel Center, Philadelphia (US Premiere)
Mar 13 | Carnegie Hall, New York (NY Premiere)
Michel van der Aa claims, "If Janine had played the flute, I would have written a flute concerto." The composer wrote this violin concerto specifically for celebrated Dutch violinist Janine Jansen and her powerful musicianship. Jansen, who has championed the work since its 2014 premiere in Amsterdam with the Royal Concertgebouw Orchestra, now performs the US premiere of the concerto with The Philadelphia Orchestra and Yannick Nézet-Séguin at the Kimmel Center on March 8 (with additional performances on the 9 and 10); they perform the New York premiere at Carnegie Hall the following week on March 13.
Rooted in the classical concerto tradition, Van der Aa has notably orchestrated without any electronics—a first in more than 10 years. He maintains his signature theatrical quality in the writing though: The piece begins with the solo violinist dominating the stage; the spotlight expands to include the lead violinist and cellist in the orchestra, who form a trio with the soloist; then expands again to a small ensemble of percussion, harp, and strings; and finally to the entire orchestra.
>
Philadelphia Orchestra website
>
Carnegie Hall website
Sunken Garden
(US Premiere)
Mar 9–17 | Dallas Opera
Called "a fantastical tale to set the ears and eyes popping" (
The New York Times
), Van der Aa's occult-mystery film-opera
Sunken Garden
(2011–2013) receives its US premiere at Dallas Opera in March. The opera, which makes use of 3D film technology, is his first collaboration with celebrated English novelist David Mitchell (
Cloud Atlas
). Van der Aa has composed the music and created the film, and also directs the production.
The Dallas production follows widely acclaimed performances at London's English National Opera, Amsterdam Holland Festival, and Opéra de Lyon in France. Critics responded strongly to Van der Aa's groundbreaking integration of different art forms: The
Wall Street Journal
writes "Film and music align seamlessly; neither would make sense without the other" while
Opera Today
states, "
Sunken Garden
is altogether more ambitious, and successfully achieves van der Aa's dreams of linking different art forms to create a Gesamtkunstwerk for the age of technology."
The Dallas Opera presents four performances of
Sunken Garden
between March 9–17, featuring Roderick Williams, Katherine Manley, and Miah Persson with the Dallas Opera Orchestra conducted by Nicole Paiement.
>
Dallas Opera website
Photo: Marco Borggreve
> News Search
Email Newsletters
Sign up for news updates and offers via email
SIGN UP
ONLINE SCORES