Rautavaara's Rubáiyát songs premiered by Gerald Finley
(May 2014)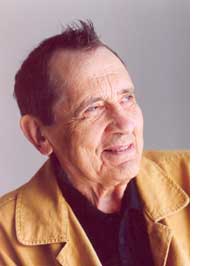 Rautavaara's new song-cycle, setting poetry from Omar Khayyám's Rubáiyát, was written for Gerald Finley who gives the premiere at the Wigmore Hall in London on 31 May.
Einojuhani Rautavaara's new song-cycle for Gerald Finley is premiered at the Wigmore Hall in London on 31 May with the baritone accompanied by pianist Julius Drake. Entitled Rubáiyát, the new work sets poetry drawn from Omar Khayyám's epic Persian collection in the classic English translation by Edward FitzGerald. The song-cycle was commissioned by the Wigmore Hall, with the support of André Hoffmann.

The composer's programme note for Rubáiyát sums up Khayyám's philosophy as "Eat, drink and be merry, for tomorrow we die", often viewed as a cry for hedonistic excess or perhaps more accurately as a simple encouragement to 'seize the day'. The poems by the mathematician, astronomer and philosopher, written around 1200, were private thoughts and opinions, and were never intended for public consumption. Edward FitzGerald (1809-93) devoted much of his life to translating the texts and their early publication met with little public success. However, they became immensely fashionable in the late 19th century thanks to the endorsement by John Ruskin and the Pre-Raphaelites, and to an illustrated edition which became a best-seller in the USA.

The composer describes how "I first encountered the Rubáiyát in 1949 and immediately knew that I would compose a musical setting of its quatrains some day. It happened 63 years later, when I was called to compose a work for the baritone Gerald Finley. Rubáiyát is dedicated to him. It felt right to compose the colourful poems for voice with orchestra, but I also made this version with piano. At the end of each poem, without break, the music continues into an instrumental interlude, preparing the following song. I cannot explain why this happened but felt strongly that this music did not want to stop and simply should flow onwards. But the songs can also be performed separately, if desired."

Rautavaara has recently orchestrated a set of Sibelius songs which received first performances by Gerald Finley in Bergen and Oslo in March with the Bergen Philharmonic Orchestra conducted by Edward Gardner. Bearing the title In the Stream of Life, the six songs include poetry by Ernst Josephson, Richard Dehmel and Johan Ludvig Runeberg in Finnish, German and Swedish. The group ends with Svarta rosor (Black Roses), one of Sibelius's most familiar songs, especially for Scandinavian audiences, which received many historic recordings including by Jussi Björling and Kirsten Flagstad.
> Further information on Work: Rubáiyát (version for voice and piano)
Photo Credit: Ondine Records
> News Search
Mailing List
Sign up for news updates and offers via email
SIGN UP
ONLINE SCORES