Tanz aktuell: John Neumeier in Hamburg mit Britten
(April 2016)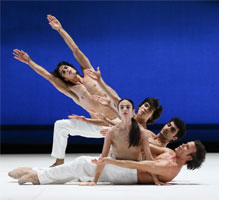 Benjamin Brittens Variations on a Theme of Frank Bridge und Sinfonia da Requiem bilden die intensive musikalische Folie für John Neumeiers "Choreographische Phantasien über Eleonora Duse".
Im Dezember 2015 feierte Neumeiers neues Ballett seine Uraufführung an der Hamburgischen Staatsoper. Für die Verkörperung der legendären Schauspielerin kehrte die Star-Ballerina Adelina Ferri zurück. Ihre Eleganz und noble Autorität harmonierte perfekt mit Brittens Musik, die von Simon Hewett und dem Philharmonischen Staatsorchester gespielt wurde.

An der Duse fasziniere ihn ihre "Wahrhaftigkeit, Zärtlichkeit und tiefe Emotionen", sagt John Neumeier. Qualitäten, die auch Brittens Sinfonia da Requiem auszeichnen. In den Variations on a Theme of Frank Bridge kombiniere Britten "eine sehr interessante Mischung von Außen- und Innenwelt", so John Neumeier: "Ich glaube, das passt zur Duse."

Die Produktion wird auch in der Spielzeit 2016/17 zu sehen sein.
> Further information on Performance: Sinfonia da Requiem
Szenenfoto "Duse" (© Holger Badekow)

Boosey & Hawkes Composer News