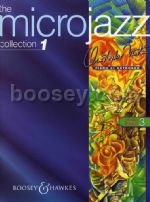 Graded piano pieces & exercises in popular styles
Instrumentation: Piano
ISMN 9790060106460
ISBN 9780851625274
Publisher Boosey & Hawkes (London)
Availability: Out of Print
Level of Difficulty: Easy
Easy pieces in popular styles such as jazz, blues, rock 'n' roll and reggae. This collection contains all the pieces formerly contained in Microjazz for Starters 1 & 2 and brand new pieces too!



Contents

Rag Time
A Day in Majorca
A Doleful Song
A Short Walk
A Thought
A Winter Song
After the battle
Ambling
Country Ballad
Cowboy Song
Cross-over
Down to business
Duet for One
Exotic Travels
Lonesome Trail
New Confidence
On the Right Lines
Questions
Riviera
Snow Scene
Sprightly
Stairway
Struttin'
Tip Top
Toy Soldiers
Tram Stop
Tut-tuttin'
Walking Together
---
Press Reviews
"praised by many people on many levels ... offers a wide range of original rhythmically-based pieces in a wide variety of styles. The really nice thing about the books is the pieces themselves. They are not only exercises but also good music in their own right...The collection is very highly recommended"
(Keyboard Player, February 1998)
"How can anyone doubt its huge influence and spot-on originalty! Many have tried to ape it but no-one has improved on it"
(Piano Magazine, July 2003)
Customer Reviews
"a real boon - the best addition to the beginner teaching repertoire I've seen in years"
By: Graeme Humphrey, Royal Academy of Music, London
Tell us what you think