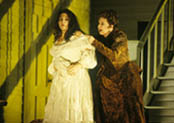 Photo: Carol Rosegg for The New York City Opera
Performed by the New York City Opera, March, 1999. Lizzie Borden: Phyllis Pancella.
Beeson, Jack
Lizzie Borden (1965)
Duration: 120 minutes
A family portrait in three acts
Libretto by Kenward Elmslie after a scenario by Richard Plant (E,G)
Scoring
chorus: dramcol S,lyr S,M,T,lyr Bar,BBar; small children's chorus
orchestra: 2(II=picc).2(II=corA).2(II=bcl).2-2.2.2.euph.1-timp.perc(2):xyl/SD/small and large susp.cym/tam-t/field dr/tamb/glsp/BD/TD/tgl-harm-harp-strings
Abbreviations (PDF)
World Premiere
3/25/1965
City Center, New York, NY
Nikos Psacharopoulos, director
Conductor: Anton Coppola
Company: New York City Opera
Roles
| | |
| --- | --- |
| ANDREW BORDEN, the father | Bass-Baritone |
| ABIGAIL BORDEN, the step-mother | Soprano (Spinto with Coloratura) |
| ELIZABETH ANDREW BORDEN, the elder daughter | Mezzo-Soprano |
| MARGRET BORDEN, the younger daughter | Lyric Soprano |
| REVEREND HARRINGTON | Tenor |
| CAPTAIN JASON MACFARLANE | Lyric Baritone |
| Small chorus of children and young people | |
Time and Place
1890, Fall River, Massachusettes
Synopsis
Based on the infamous Fall River, Massachusetts crime of 1890, the opera tells the story of Andrew Borden and his second wife, Abbie, who were found hacked to death, and the daughter who became the main suspect. Lizzie's father, the richest man in town, disrupts a choir rehearsal and embarrasses Lizzie. A sea captain, Jason MacFarlane, and the Reverend visit the Borden home, and Jason asks Andrew for permission to marry his younger daughter, Margret. Andrew refuses the request, offering Lizzie instead. Jason and Margret make plans to elope. Lizzie puts on the wedding gown of her deceased mother. Lizzie fantasizes that Jason will return for her. Abbie catches Lizzie in the wedding gown and threatens to tell Andrew. Abbie orders Lizzie to set the table for dinner and goes upstairs for a nap. Lizzie, still in the gown, grabs a weapon and is seen entering Abbie's bedroom. Andrew returns, and Lizzie goes to her father's room upstairs. She is acquitted of committing both murders, but is shunned by her community. Children circle the house, mocking her. She lives out the rest of her life in her father's house.
Subjects
Contemporary, Relationships, Society
Recommended Recording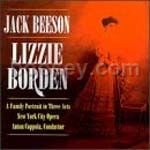 Ann Elgard, lyric soprano; Brenda Lewis, mezzo soprano; Ellen Faull, soprano; Herbert Beattie, bass baritone; Richard Fredricks, lyric baritone; Richard Krause, tenor

New York City Opera; Anton Coppola, conductor

New World Records #NWCR694