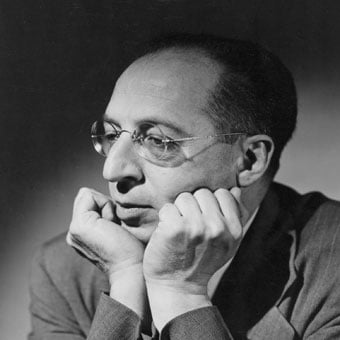 Aaron Copland
1900 - 1990
Aaron Copland was a great pioneering force in American music, and is in fact one of the most honoured cultural figures in US history - he basically "is" American music!

Early on, he was influenced by Stravinskian neo-classicism, popular music, and the developing European nationalist composing traditions; And upon his return to the USA, his modernism and use of jazz gave him a reputation as an 'enfant terrible'. But in the 1930s and 40s he broke away from European music and established what is now a characteristically American vernacular style, employing simple harmonies, folk melodies, and lucid orchestration. He won great public appeal through such pieces as Fanfare for the Common Man (which has since been routinely used for all events of human haughtiness, not least as a Star Trek theme tune!), Old American Songs, and his Pulitzer Prize-winning ballet Appalachian Spring.

As a conductor and an educator he worked tirelessly to promote other composers, at Harvard, Tanglewood, on radio and television.
Bestselling Titles by Aaron Copland