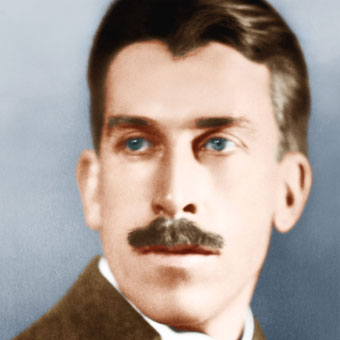 Arthur Bliss
b. 2 August 1891, London d. 2 August 1891, London
Sir Arthur Bliss is generally remembered as an English composer, a pillar of the British musical establishment, but he was in fact half-American (on his father's side), and America was to play an important part in his life and career.
Bliss was born in London on 2 August 1891 and was educated at Rugby School and Pembroke College, Cambridge. In the spring of 1914 he attended the Royal College of Music – only for a term, but long enough to receive valuable instruction and advice from Vaughan Willliams and Holst. His studies were interrupted by the outbreak of the First World War. Bliss obtained a commission, to servein France, first with the Royal Fusiliers, and then with the Grenadier Guards. He was wounded on the Somme in 1916 and, two years later, gassed at Cambrai, and his bravery was commended in despatches, but he survived – unlike his brother Kennard, whose loss he felt keenly.
Bliss began to make an impact as a composer shortly after the War, with works like Madam Noy (1918) and Rout (1920), and he also began to be noticed as a conductor. The modernity of these early works had gained him a reputation as an enfant terrible but a more mature tone entered his voice with the Mêlée Fantasque of 1921 and, in particular, the Colour Symphony, first performed at the Three Choirs Festival in 1922; it was commissioned at the behest of Elgar, whom Bliss had first met in 1912.
In 1923 Bliss went with his father to the United States, composing little during this period but becoming highly active as a conductor, pianist, lecturer and writer; he also heard his music played by the Boston Symphony Orchestra under Pierre Monteux and the Philadelphia Orchestra under Leopold Stokowski. During this period he met Trudy Hoffmann, whom he married in 1925; early the following year they returned to England and the stream of compositions began to flow again: Introduction and Allegro for orchestra (1926), a quintet for oboe and strings (1927), Pastoral ("Lie strewn the white rocks") for soprano, chorus, flute, timpani and strings (1928) and a Serenade for baritone and orchestra (1929). In the late 1920s Bliss began work on the score that may well be his masterpiece, Morning Heroes, a symphony for orator, chorus and orchestra dedicated to the memory of his brother Kennard and "all other comrades killed in battle". With it, Bliss said, he exorcised his own horrific memories of action in the First World War.
One of Bliss' most influential scores was his film music for Alexander Korda's version of H. G. Wells' Things to Come (1934–35), which set a benchmark for future composers. This was followed by three equally influential ballets: Checkmate (1937), Miracle in the Gorbals (1944) and Adam Zero (1946). Bliss always responded to the stimulus of writing for individual musicians, and his Piano Concerto (1939) was composed for Solomon, the Violin Concerto (1955) for Alfredo Campoli and the Cello Concerto (1970) for Mstislav Rostropovich. He also continued to produce a number of impressive orchestral scores, not least the Meditations on a Theme of John Blow (1955) and the late Metamorphic Variations (1972).
Bliss's only attempt at a stage opera, The Olympians (1949), to a libretto by J. B. Priestley, was only moderately successful, and he attempted the genre only once again, in the TV opera Tobias and the Angel (1960), to a text by Christopher Hassall. He continued to enjoy writing for voice: The Enchantress (1952), a scena for contralto and orchestra, was composed for Kathleen Ferrier, and The Beatitudes (1962) is an extensive cantata for soprano, tenor, chorus and orchestra. His last major work was another cantata, Shield of Faith (1975).
Bliss was always at the centre of British musical life: he worked in the Overseas Music Service of the BBC in 1941, and was the BBC's Director of Music from 1942 to 1944. He was knighted in 1950, and was appointed Master of the Queen's Musick in 1953, in succession to Sir Arnold Bax. He died on 27 March 1975.
Arthur Bliss is published by Boosey & Hawkes.
Reproduction Rights
This biography can be reproduced free of charge in concert programmes with the following credit: Reprinted by kind permission of Boosey & Hawkes
Bestselling Titles by Arthur Bliss