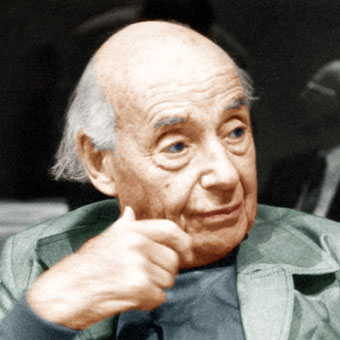 Berthold Goldschmidt
1903 - 1996
Berthold Goldschmidt was a successful and award-winning composer in the 1920s, who was described as "one of the great hopes of German music." But, being a Jewish composer, the Nazi regime subsequently banned his music, and he was forced to flee Nazi Germany in 1935. He emigrated to London, where he worked for the BBC and also as a conductor, whilst continuing to compose such works as his opera Beatrice Cenci. However, he suffered so much neglect by the establishment amidst the prevailing avant-garde climate, that after his Mediterranean Songs of 1958 he utterly abandoned composition.

After a break of almost 25 years, he began to compose again in 1982 and produced an astounding body of late work, writing his final work, Deux nocturnes, at the age of 93. During this time, the music world rediscovered the 'Entartete Musik' composers, and he was finally able to enjoy a period of concert performances, opera productions and recordings. His music is tonal, and combines lyricism, rigorous contrapuntal or formal techniques, a sharp wit and a dancing vitality.

Works by Goldschmidt include:
Partita (1927) for orchestra
Der gewaltige Hahnrei (1929-30) Musical tragicomedy in three acts
String Quartet No.2 (1936)

Click on the links above for further information.
Bestselling Titles by Berthold Goldschmidt