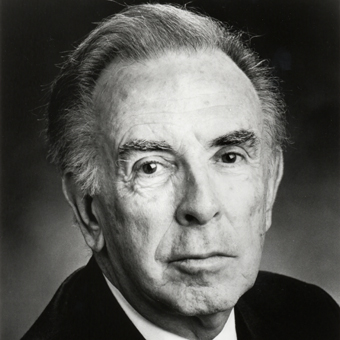 Carlisle Floyd
1926 - 2021
English
Deutsch
Introduction to Carlisle Floyd: Father of American Opera
by Laura Chandler
Carlisle Sessions Floyd (1926–2021), born in South Carolina to a Methodist minister and his musical wife, was a pioneer in the American opera movement. While he composed in other forms, he focused intently on opera because it combined his interests in the visual arts, theater, and music.
Floyd's college piano teacher Ernst Bacon urged him toward the "American camp" of opera composition, at a time when most opera in the United States was still quite traditional and Eurocentric. Bacon's only real advice to the nascent composer was to listen to his own instincts, something Floyd did consistently throughout his career. Even though he had a love-hate relationship with the South, he knew the sounds of it well: the strains of religious and folk music, the speech patterns. He loved the theater, and the influences of Broadway were sometimes heard in his music—controversially, at first.
Floyd produced 12 operas during his career of six decades. He believed unapologetically that American composers had a duty to create music that was accessible to their audiences, yet also to bring them a bit further in their musical understanding. To that end, he wrote in what was then considered a conservative, melodic idiom, but one that increased in complexity over his career.
Floyd's practice of writing his own libretti began with his very first opera, the one-act Slow Dusk (1949), a student project based on a short story he had written. (Slow Dusk is still often performed today in university settings.) This practice was reinforced with his second opera, Susannah, based on the Apocryphal story of "Susanna and the Elders." A friend, who had suggested the topic, had also offered to write the libretto, but when he was unable to follow through, Floyd wrote it himself. After that, writing the libretto himself was a given.
Susannah premiered in February 1955 at Florida State University, where Floyd was on the music faculty, with New York City Opera principal soprano Phyllis Curtin in the title role. It was a major coup for a young composer to have a singer of her stature in his first full-length opera, but Curtin believed in the piece and in Floyd. Her advocacy helped propel Susannah to a production with New York City Opera the following year, with Curtin reprising the title role. It was a major triumph, and thus Carlisle Floyd's career was launched.
In the opera—still by far Floyd's most frequently performed work—the beautiful young Susannah stands up for herself against her community when she is falsely accused of sexual immorality. Susannah introduces some of the themes that resonated most with Floyd's experiences and would recur in future operas: Southern mores, religious fundamentalism, hypocrisy, and, especially, the plight of the individual in a closed society.
On the basis of Susannah, critics began pigeonholing Floyd as a composer of folk opera, a designation he disliked because he had a much broader vision for his work. His next opera was Wuthering Heights (July 1958, Santa Fe Opera), based on the Emily Brontë novel—and, like it, set on the English moors. While he didn't choose the subject matter, he later said he accepted the commission in part because it was so different from Susannah.
Floyd returned to South Carolina as a setting for The Passion of Jonathan Wade (October 1962, New York City Opera). Its protagonist is a Union colonel sent to the South during the Reconstruction Era, a period in US history that Floyd felt most Americans didn't know much about. The audience response was so enthusiastic that Floyd was quite unprepared for the cool critical reception toward both the text and music. The experience plunged him into a crisis of confidence, but much later he would return to the work with a different result.
A fertile period followed the premiere of Jonathan Wade. Floyd launched into a deep study of orchestrations by masters he admired, such as Ravel, Prokofiev, Stravinsky, and Copland—not to emulate them but to learn from them. He wrote two one-act operas: The Sojourner and Mollie Sinclair (December 1963), a comedy about Scottish immigrants to North Carolina written for the state's Tercentenary, and Markheim (March 1966), based on the Robert Louis Stevenson tale about a shopkeeper, a dissolute aristocrat, and a Faustian bargain. For Phyllis Curtin, he wrote a monodrama based on the life of Eleanor of Aquitaine, titled Flower and Hawk (May 1972). All three of those works were successful.
From that period also came a full-length opera, the one many believe to be Floyd's masterpiece: Of Mice and Men (January 1970, Seattle Opera). Based on the well-known John Steinbeck novella, the opera was praised for its rich orchestration, taut story, and the musical delineations of the characters.
David Gockley, who would become general director of Houston Grand Opera beginning with the 1972–1973 season, met with Floyd in 1971 to ask him to create an opera for Houston. Thus began an ongoing relationship between the company and the composer that has no parallel in the United States; all five of Floyd's remaining operas would premiere at Houston Grand Opera.
The first Houston opera, and the one Floyd named as his favorite among all his operas, was Bilby's Doll (February 1976). Based on Esther Forbes's brilliant book A Mirror for Witches, Bilby's Doll is set in the Salem witch trial period in Puritan New England. In this psychological thriller, the main character, Doll Bilby, undergoes the unspeakable trauma of seeing her parents burned as witches and begins to believe she is a witch herself.
Willie Stark followed in April 1981, based on Robert Penn Warren's All the King's Men. The opera's title character was inspired by the controversial former governor of Louisiana, Huey Long. In the opera, Willie begins as a humble public servant, but once in power, he begins to manipulate the system with great cunning, losing himself along the way.
In the 1980s, Floyd looked back at his Jonathan Wade, and he and Gockley thought it was worth reviving. Floyd got to work on a revision, and the result was essentially a new opera. Houston presented the world premiere of the new version in January 1991. It represents a much more mature style; while it contained familiar forms (e.g., a spiritual), it was distinguished by greater variety in the rhythms, and greater use of dissonance and complex harmonies. This time, it won accolades from both the public and the press.
Nearly a decade later came Cold Sassy Tree (April 2000), Floyd's only full-length comedic opera. Inspired by the Olive Ann Burns novel of the same name, the opera takes place in the small town of Cold Sassy Tree, Georgia. Focused on the relationship between the town's leading citizen with a much younger (Yankee!) woman, the opera delighted audiences and critics and would have been a fitting finale to a groundbreaking career.
But there was yet another opera in Floyd, who had been so taken with the film Stage Beauty that he wanted to base an opera on it. His dramatic instincts were aroused by the predicament of the main character—the historical actor Edward Kynaston, who epitomized the art of playing women's roles at a time in Britain's history during which women weren't allowed to perform—when King Charles II turned the tables, allowing women to perform and forbidding men to appear as women. This opera (Prince of Players, March 2016) introduces some issues not seen in Floyd's previous works, such as sexuality and gender identity.
By the time Floyd died on September 30, 2021, he had done everything he had set out to do. He was widely hailed as the first American opera composer whose works were regularly performed. He was acknowledged as a master of writing for the voice and lauded for his tight, dramatic storylines. Even more, he was a pioneer who held the light for the ones who would follow.
—Laura Chandler, former Director of Publications at the Houston Grand Opera
Bestselling Titles by Carlisle Floyd