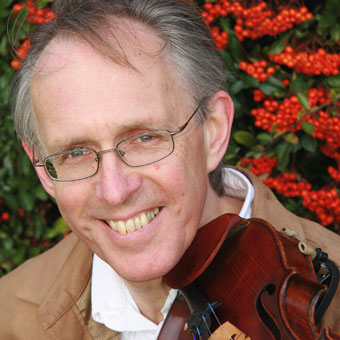 Edward Huws Jones
b. 2 January 1948 d. 2 January 1948
Edward Huws Jones was a composer, arranger and music educationalist with a particular interest in music for young string players. His music is played and enjoyed all over the world.
Edward drew on a rich and varied musical background. After the University of York and the Royal Academy of Music his early career was as a specialist in renaissance and baroque music. Edward went on to gain extensive experience as a string teacher, with a particular focus on effective group teaching within the state system. His numerous original compositions for children and young people have a firmly-established place in the educational repertoire. He was the founder of the Mostar Strings Project, a project initiated to provide group musical activities and violin teaching to children and families in Bosnia.
Edward also travelled the globe researching fiddle playing traditions and endeavoured to make much of this colourful music available in print for the first time. His enormously popular Fiddler series for Boosey & Hawkes now comprises more than 15 collections, including Jigs, Reels and Hornpipes, The Klezmer Fiddler and The Tango Fiddler. Recent additions to the series include The French Fiddler, published in 2011, and The Nordic Fiddler released in 2014.
Since 1996 he acted as a consultant and editor for ABRSM and worked on numerous projects including the selection of five successive violin examination syllabuses. He was also involved in the development of Music Medals, an innovative approach to encouraging and assessing the achievement of young students taught in groups.
Edward Huws Jones is published by Boosey & Hawkes.
Bestselling Titles by Edward Huws Jones