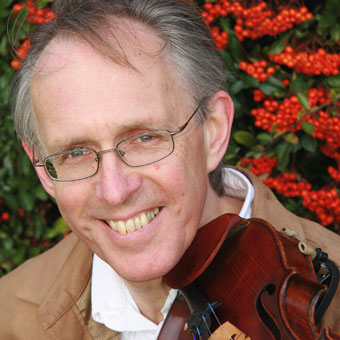 Edward Huws Jones
1948 - 2020
Mostar Children's Violin Project
The Mostar Children's Violin Project was initiated by Edward Huws Jones to help children in the Southern Bosnian city of Mostar. The idea was to set up violin teaching groups in East and West Mostar, offering the healing power of group musical activities to children, their families and the wider community.
The violin has a particular relevance for Bosnia, with its links with the folk tradition as well as classical concert music. It is also ideal for group work. Mostar is a natural context for this type of scheme. It has a strong musical tradition and, prior to the war, had a thriving symphony orchestra and music school. Sadly, during the war most musicians and music teachers left and virtually all the instruments and scores were destroyed or looted. Edward tells of one local piano teacher who was forced to burn her precious piano, key by key, as firewood.
Edward is well-known in the UK and abroad for his innovative methods of working with groups of children, focusing particularly on the social, community and recreational aspects of music making. It is this group approach that he felt would be so beneficial for the children of Mostar.
Edward describes his workshops as a "mixture of games, action-songs and lots of fun - as well as plenty of hard work. The musical and social experience helps raise children's self-esteem and encourages team-work and co-operation".
When Edward made his first visit to Mostar in New Year 1996 he arrived in a city almost completely destroyed by the hostilities. The city was rigidly split between the Croatian/Christian West and the Muslim/Bosnian East. Every building in the eastern sector had been badly damaged by mortar attacks and finding transport or accomodation was problematic.
Twenty half-sized violins, an electronic keyboard and a large quantity of teaching music, donated by UK businesses including Boosey & Hawkes, had arrived safely, after a precarious journey across Europe, concealed in bundles of second-hand clothing.
Edward led five-day workshops in the east and west sectors of the city, culminating in a concert attended by over 200 well-wishers: family, friends local media and children off the street, with a fantastic atmosphere and a high level of audience participation.
Since then another 20 or so instruments have been sent out to Mostar (Edward is now adept at judging exactly how many violins will fit into a Croatian Airlines overhead locker) and the workshops and concerts have become regular events. Some of the children have made considerable progress and are now motivated to study the violin on a long-term basis. In an environment where any educational opportunities are now severely limited this musical training is valued very highly.
To ensure the continuation of this work it is essential that members of the local community get involved in the teaching process. Many teachers have fled the city, but a few are gradually returning and Edward has been nurturing links with local musicians with a view to setting up a teacher training scheme. He currently works with teacher Rada Baljak, a young violinist who recently returned to East Mostar after three years as a refugee in Vienna.
The project works with children from both sides of the divided city and to date all workshops have operated independently. It is hoped that, when the political situation allows, the project will offer a path of reconciliation between the children of East and West Mostar.
The Mostar Children's Violin Project is supported by the refugee organisation Stope Nade and funded by the Dublin-based charity Cradle, specially set up to help children in former Yugoslavia.
Bestselling Titles by Edward Huws Jones