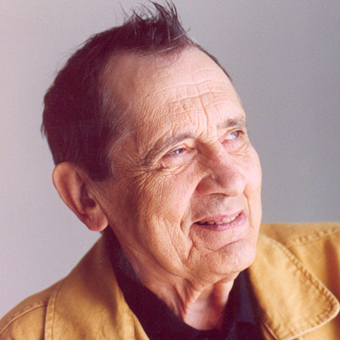 Einojuhani Rautavaara
1928 - 2016
English
Deutsch
Français
__An introduction to Einojuhani Rautavaara's music__ _by Hilary Finch_ One of Einojuhani Rautavaara's proudest possessions is a fading scrap of paper, framed and hanging in his study. It is dated May 1955, and declares: 'Sibelius suggests to you the Koussevitzky Scholarship for study in Tanglewood US six weeks from July STOP possibility to continue at Juilliard for a year STOP'. Although a protégé of Sibelius, Rautavaara, like every Finnish composer who followed in the master's wake, had to find his own way forward. He has justified Sibelius's faith in him in an ever-evolving life of prolific composition.
As first student, then music archivist, rector and professor of composition at Helsinki's Sibelius Academy, he has, in his own writing, moved through experiments in neo-classicism to avant-garde constructivism and serialism: Schoenberg's 12-tone discipline continues to inspire him. He then moved on, particularly in his symphonic works, through a period of unashamed Romanticism to the mysticism which soft-focuses his renowned Seventh Symphony,
'Angel of Light'
. Now, in his late-eighties, Rautavaara continues to compose energetically, and often with specific performers in mind.
Literary inspiration has always shaped the composer's thinking and writing. Rautavaara is widely and well read, and both philosophical ideas and resonant images permeate his composition. A particular devotee of German literature, he has been fascinated with the dark fear within Rainer Maria Rilke's poetic angels. Like that of Rilke himself, Rautavaara's work is suffused with his personal spiritual vision. He declares he is 'conscious of a level of existence outside our own, beyond the cognitive.' And his spirituality rises from within the natural world too: one of the composer's earliest and still most popular works is
Cantus arcticus
, a concerto for birds (via a tape recording) and orchestra. Acutely sensitive to the sights and sounds of the natural world, he claims that his double-bass concerto,
Angel of Dusk
, was inspired by the sight, through an aeroplane window, of a radiant sunset, glimpsed through dark clouds. In 2010, his 85th birthday year, and after recovering from a serious operation, Rautavaara completed his aptly named cello concerto,
Towards the Horizon
, with its seemingly infinite melodies.
Choral music takes up a huge part of Rautavaara's worklist; but his music for voice (Finland's fine choirs, and his soprano wife, Siri, have been inspirational) has also included major works for the stage, such as
Vincent
, his Van Gogh opera of 1986,
The House of the Sun
(1989) and
Aleksis Kivi
, a three-act opera taking a quirky look at the life of the famous Finnish writer. A monologue, and four songs from
Aleksis Kivi
have joined a substantial body of works for solo voice, including settings of Shakespeare and Rilke, and the recently premiered
Rubaiyat
, an Omar Khayyám songcycle written for Gerald Finley. Rautavaara has also returned to his beloved Federico Garcia Lorca for his
Balada
for chorus, tenor and orchestra, premiered in Madrid in 2015.
Voice-hungry as ever, Rautavaara still harbours a desire to write another chamber opera, this time on a Greek story about a shipwreck, and a boy carried to shore by a dolphin. His own libretto awaits its transformation into the ever-evolving melodic and textural wonder which is his music.
Hilary Finch, 2015

(Critic, writer and broadcaster, working for
The Times
,
BBC Music Magazine
and
BBC Radio 3
, and specialising in song, and in the music of Finland and Iceland.)
Bestselling Titles by Einojuhani Rautavaara