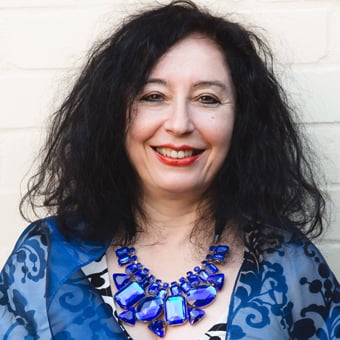 Elena Kats-Chernin
b. 4 November 1957, Tashkent, Uzbekistan
English
Deutsch
Among Elena Kats-Chernin's extensive oeuvre are works in nearly all genres of classical composition: instrumental solo and ensemble pieces, symphonic, chamber orchestral and concertos, for plays, ballet and musical theater, choral and other vocal music. The composer has received numerous commissions from internationally renowned ensembles and institutions, including the Australian Chamber Orchestra, the Australian World Orchestra, the Symphony Orchestras of Adelaide, Tasmania, Melbourne, and Sydney, the Australian Brandenburg Orchestra, the City of London Sinfonia, the Swedish Chamber Orchestra, the North Carolina Symphony, as well as the opera houses of Antwerp, Stuttgart, and Kassel. She has collaborated with well-known artists such as Shobana Jeyasingh, Didy Veldman, Mahan Esfahani, Avi Avital, Richard Tognetti, Michael Collins, Axel Ranisch, Igor Bauersima, Simone Young, Marin Alsop, Peter Rundel, David Porcelijn, and many more. Her oeuvre is comprehensively documented on CD and DVD.
Kats-Chernin, who was born on 4 November 1957 in Tashkent, Uzbekistan, as the younger of two daughters of a physician and an engineer, grew up from the age of four in the Russian regional capital of Yaroslavl. She devoted herself since earliest childhood to piano playing. She received instrumental instruction at music school, and later also composition lessons at the Sobinov Conservatory in Yaroslavl. At the age of fourteen, she passed the entrance examination at Moscow's Gnessin Academy of Music and was one of nine candidates accepted from among 600 applicants. During her training there, her family decided to follow Kats-Chernin's aunt and uncle, who had emigrated with their family to Australia, and so in 1975, at the age of seventeen, she settled in Sydney, where she continued her studies at the Conservatory of Music with Richard Toop (composition) and Gordon Watson (piano), among others. She received her diploma in 1979, whereby she was the first graduate to be granted a double degree as pianist and composer; for her concert exam, she played her own piano concerto, which also won her the Frank Hutchens Scholarship for Composition of the Music Teachers' Association of New South Wales.
By means of a DAAD scholarship, she came to Germany, where she studied with Helmut Lachenmann in Hanover from 1980 to 1982 and lived for nearly fourteen years. Kats-Chernin wrote many works for theater and ballet. Her collaborations with director Andrea Berth and choreographer Reinhild Hoffmann led to productions at Vienna's Burgtheater, at the Schauspielhaus Bochum, and the municipal theaters in Hamburg and Berlin. A close collaboration developed with Ensemble Modern, for whom Kats-Chernin composed the piece Clocks, which was premiered in late 1993, attracted great international attention, and subsequently played by many ensembles, as was the Concertino with solo violin (1994). Shortly before this, in 1993, she composed her first large-scale orchestral work, Retonica, a commission from the Australian Music Centre. Starting around this time, Kats-Chernin underwent a fundamental turn away from modernistic, noise-like musical language to a more accessible tonal style as, for example, in Zoom and Zip (1998). Since then, her music can be described as a personal amalgam of different influences; these include elements of minimal music, dance-like music, classical models, for example from Russian music or the Baroque, as well as Jewish and other folk music traditions.
In 1994 Kats-Chernin returned with her three sons to Australia and settled in a suburb of Sydney, where she lives to the present day. The piece Cadences, Deviations and Scarlatti, composed as a commission from the Sydney Alpha Ensemble with support from the Australia Council for the Arts, was honored with the Classical Music Award of the Australian Music Centre and by the APRA performing rights society as the best composition by an Australian composer; that same year, she received the Jean Bogan Prize for her piano piece Charleston Noir.
In the 1990s she wrote her first opera, Iphis, and, as a commission from ZDF/arte, the silent-film soundtracks to Victor Sjöström's Körkarlen (The Phantom Carriage; 1921), Robert Siodmak's Menschen am Sonntag (People on Sunday; 1930), and G. W. Pabst's Abwege (The Devious Path; 1928). For the opening ceremony of the 2000 Olympic Games in Sydney, she collaborated with Meryl Tankard and composed Deep Sea Dreaming for children's choir and orchestra. Wild Swans, after Hans Christian Andersen's fairytale of the same name, which was premiered in 2003 by the Australian Ballet and granted the Helpman Award in 2004, also emerged from the collaboration with Meryl Tankard; in 2019 it was accepted into the national Sounds of Australia archive. The Eliza Aria taken from this ballet score was used for many years for the TV/cinema advertising campaign "For the Journey" of the British financial service provider Lloyds and contributed to Kats-Chernin's international fame.
For the inauguration of Barrie Kosky's directorship in 2012, she arranged all three of Claudio Monteverdi's surviving operas for the Komische Oper Berlin. For the theater music to Frankenstein, she was given, together with Daryl Wallis, the 2013 Sydney Theatre Award; in 2014 she received the Sidney Myer Performing Arts Award. She was composer in residence of the Queensland Symphony Orchestra (2011) and of the Melbourne Symphony Orchestra (2017). Opera Australia granted commissions for the four-part TV soap opera The Divorce (2015) as well as for the artists' opera Whiteley (2019). A great success in the German-speaking countries are her operas for young audiences.
The 2023/24 season sees the world premieres of her silent film music Varieté, of a double concerto for violin and cello, and of the new children's opera Nils Holgersson's Wondrous Adventures, and Elena Kats-Chernin is composer-in-residence in Magdeburg and Bremerhaven.
Elena Kats-Chernin was named Officer of the Order of Australia in 2019, and is "represented artist" of the Australian Music Centre. Her works are published exclusively by Boosey & Hawkes.
Jens Luckwaldt, November 2022 (translation: Howard Weiner)
 
Reproduction Rights
This biography can be reproduced free of charge in concert programmes with the following credit: Reprinted by kind permission of Boosey & Hawkes
Bestselling Titles by Elena Kats-Chernin