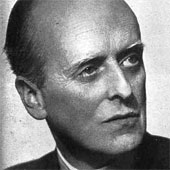 Eric Coates
b. 27 August 1886, Hucknall d. 27 August 1886, Chichester
Eric Coates was born on August 27th, 1886, at Hucknall. His father was a well-loved and respected doctor in this small mining town in the centre of the Nottinghamshire coalfields between Nottingham and Mansfield. Coates showed an interest in music at an early age, studying first the violin and then the viola with George Ellenberger, a pupil of Joachim, and harmony with Dr Ralph Horner in Nottingham.
At the age of twenty he arrived in London determined to make a career in music despite some family misgivings. He won a scholarship to the Royal Academy of Music where he studied viola with Lionel Tertis and composition with Frederick Corder. This was in the days of Sir Alexander Mackenzie when the Academy was in Tenterden Street. At the outset Mackenzie recognised Coates' talents. 'Mark my words, young man,' he said to Coates, 'ye'll start as a viola player but ye'll end up as a composer!'
From 1912-1919 Eric Coates was principal viola of the Queen's Hall Orchestra under Sir Henry Wood. He also played under the batons of Elgar, German, Delius, Holst, Walford Davies, Bantock, Richard Strauss, Debussy, Ethel Smyth (who addressed him delightfully as 'the man who writes tunes'), Mengelberg Nikisch and Beecham. He also played in theatre orchestras including the one at the Savoy Theatre for the Gilbert & Sullivan Operas. Although a very modest man, he enjoyed telling the story about members of the orchestra having a competition to see who would be the first to play an entire score from memory —and how he won. Coates played in string quartets too. He took Lionel Tertis' place in the Hambourg String Quartet for a tour of South Africa.
Eventually, in 1919, when neuritis in his left hand made playing the viola more and more difficult, Eric Coates turned exclusively to composition. By this time, his music was acquiring a steady following with such established successes as Stonecracker John (1909) and Miniature Suite with its entrancing Scene du bal, first performed at a Prom Concert in 1911.


Eric Coates' work is in the tradition of polished melodic light music started by Sir Arthur Sullivan and continued by Edward German. Indeed, in his early years, Coates was much influenced by German. During the 1920s, however, Eric Coates developed a distinctive style which embraced his own use of the newly-introduced American syncopated idiom. He was the first European composer to treat this new style seriously and successfully integrate it into symphonic writing. When he adopted syncopation, the music critics of the heavier press ignored him but it never concerned him. 'After writing the London Suite,' he once said, 'I moved from the music page to the news page and it was one of the moves I have never regretted.'
For over twenty seven years Eric Coates' march Knightsbridge, from his London Suite introduced BBC Radio's In Town Tonight. For forty years By the Sleepy Lagoon announced Desert Island Discs. And these were not the only long running programmes that used Coates' music. His march Calling All Workers was the clarion call for the thousands of Music While You Work programmes broadcast during the hard days of the war. Halcyon Days (Elizabeth Tudor) from The Three Elizabeths Suite opened and closed BBC Television's immensely popular serialisation of Galsworthy's The Forsyte Saga. These were just a few of the programmes that were enhanced by Eric's music which seems to give them a special cachet and perhaps a touch of magic because they all seemed to be successful. After Knightsbridge was first broadcast in 1933, twenty thousand letters arrived at Broadcasting House within the following two weeks asking for the name of the composer and the signature tune of In Town Tonight.
Whereas many British composers sought inspiration in the countryside it was usually the reverse for Coates. He was most happy working amongst the sounds and excitement of London. Inspiration sometimes came to him in the most unusual places. A certain pillar box in Harley Street, for instance, is said to have inspired one of his marches. Eric Coates received many letters suggesting ideas for suites. Most of these were unsuitable but one from a Rev Arthur L Hall of Barnes did inspire The Three Elizabeths dedicated to the then Queen Consort (to become the Queen Mother) and first performed in 1944.
The years from 1926 to 1939 were the most prolific in Coates' career and marked his rise to international fame. From this period comes: The Three Bears, Cinderella, The Enchanted Garden, London Suite, London Again Suite, From Meadow to Mayfair, the Saxo-Rhapsody, The Three Men, Four Ways and The Jester at the Wedding.
What is not quite so well known today is that Coates composed a large number of songs. Speaking of these, Mrs Stanford Robinson, who sang many of them under her professional name, Lorely Dyer, said: 'I always enjoyed singing Eric's songs. They had a lovely vocal line and gave one every chance to colour one's voice. My favourites were Fairy Tales of Ireland, Bird Songs at Eventide, I Heard You Singing and, most of all, Green Hills of Somerset.
Eric Coates enjoyed conducting his own music and had very decided views on the subject. He liked his music to be taken at brisk and lively tempi — he frowned on those conductors who made it sound slow and stodgy — there was nothing like that about him. Stanford Robinson, who must have conducted more performances and made more recordings of Eric's music than any other conductor, said, 'He was a very good conductor. He was always neat and immaculate and, of course, having been an orchestral player himself, he did not bully the orchestra but he was always in control.'
One's overall impression, reading his autobiography, Suite in Four Movements, published in 1953, is that Eric Coates was an essentially happy person, full of joie de vivre. His son, Austin Coates, confirmed that this was so and said: 'Yes, that's absolutely true although at home we noticed how calm and extremely well ordered he was. For instance, he couldn't settle down to write music until he was properly dressed in the morning complete with tie and Harris Tweed coat — and, perhaps, a Turkish cigarette. He was very formal at home and incredibly tidy. If I left a book lying around anywhere there would be quite a lot of remonstrances to follow. But he was very easy to live with.'
Recently, Sir Charles Groves wrote of him, 'Eric Coates was a gentle and quietly-spoken man but his music crackled with vitality. He could write tunes and could clothe them in the most attractive instrumental colours; not for nothing had he been Henry Wood's Principal Viola in the Queen's Hall Orchestra. 'He did not, as far as I know, aspire to writing symphonies or oratorios. He knew what he could do and he did it superbly well. 'Someone once said that the marches of Souza would make a man with a wooden leg step out; a man would have to have a wooden heart not to respond to the music of Eric Coates.'
When Eric Coates died on December 21st 1957, it was rightly commented that perhaps no other composer had ever provided music to suit the public taste so unerringly for so many years. Indeed from his early song successes in Edwardian days to those of his last orchestral works (including The Dam Busters' March), Eric Coates was recognised as the 'uncrowned king of light music'.
Reproduction Rights
This biography can be reproduced free of charge in concert programmes with the following credit: Reprinted by kind permission of Warner/Chappell
Bestselling Titles by Eric Coates