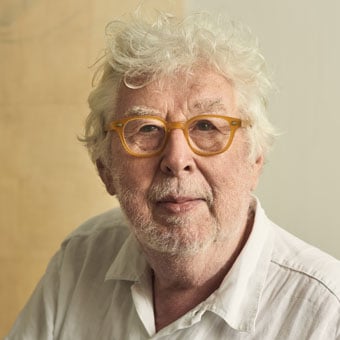 Harrison Birtwistle
b. 15 July 1934, Accrington
English
Deutsch
Sir Harrison Birtwistle was born in Accrington in the north of England in 1934 and studied clarinet and composition at the Royal Manchester College of Music, making contact with a highly talented group of contemporaries including Peter Maxwell Davies, Alexander Goehr, John Ogdon and Elgar Howarth. In 1965 he sold his clarinets to devote all his efforts to composition, and travelled to Princeton as a Harkness Fellow where he completed the opera
Punch and Judy
. This work, together with
Verses for Ensembles
and
The Triumph of Time
, firmly established Birtwistle as a leading voice in British music. The decade from 1973 to 1984 was dominated by his monumental lyric tragedy
The Mask of Orpheus
, staged by English National Opera in 1986, and by the series of remarkable ensemble scores now performed by the world's leading new music groups:
Secret Theatre
,
Silbury Air
and
Carmen Arcadiae Mechanicae Perpetuum
. Large-scale works in the following decade included the operas
Gawain
and
The Second Mrs Kong
, the concertos
Endless Parade
for trumpet and
Antiphonies
for piano, and the orchestral score
Earth Dances
. Birtwistle's orchestral works since 1995 include
Exody
, premiered by the Chicago Symphony Orchestra and Daniel Barenboim,
Panic
which received a high profile premiere at the Last Night of the 1995 BBC Proms with an estimated worldwide audience of 100 million, and
The Shadow of Night
commissioned
by
the Cleveland Orchestra and Christoph von Dohnányi.
The Last Supper
received its first performances at the Deutsche Staatsoper in Berlin and at Glyndebourne in 2000.
Pulse Shadows
, a meditation for soprano, string quartet and chamber ensemble on poetry by Paul Celan, was released on disc by Teldec and won the 2002 Gramophone Award for best contemporary recording.
Theseus Game,
co-commissioned by RUHRtriennale, Ensemble Modern and the London Sinfonietta, was premiered in 2003. The following year brought first performances of _The Io Passion_ for Aldeburgh Almeida Opera and _Night's Black Bird_ commissioned by Roche for the Lucerne Festival. His opera _The Minotaur_ received its premiere at the Royal Opera House Covent Garden in 2008 and has been released on DVD by Opus Arte. Works premiered in the past decade include his music theatre work _The Corridor_ which opened the Aldeburgh Festival and toured to the Southbank Centre and the Bregenz Festival, with further performances in New York and Amsterdam. Birtwistle's violin concerto for Christian Tetzlaff was premiered by the Boston Symphony Orchestra in 2011, followed by performances at the BBC Proms, Tokyo Composium and Salzburg Festival. Birtwistle's 80th birthday year in 2014 saw the premiere of _Responses_ for piano and orchestra, touring internationally with Pierre-Laurent Aimard as soloist, and 2015 brought a new music theatre work _The Cure_ performed in a double-bill with _The Corridor_ at the Aldeburgh Festival and the Royal Opera House in London. _Deep Time_ for orchestra, commissioned by the Berlin Staatsoper and BBC Radio 3, received first performances in 2017 conducted by Daniel Barenboim in Berlin and at the BBC Proms. The music of Birtwistle continues to attract international conductors including Daniel Barenboim, Christoph von Dohnányi, Oliver Knussen, Sir Simon Rattle, Peter Eötvös, Franz Welser-Möst, Paul Daniel and Martyn Brabbins. He has received commissions from leading performing organisations and his music has been featured in major festivals and concert series including the BBC Proms, Salzburg Festival, Glyndebourne, Holland Festival, Lucerne Festival, Stockholm New Music, Wien Modern, Wittener Tage, the South Bank Centre in London, the Konzerthaus in Vienna, MiTo in Turin and Milan and Casa da Música in Porto. Birtwistle has received many honours, including the Grawemeyer Award in 1968 and the Siemens Prize in 1995; he was made a Chevalier de l'Ordre des Arts et des Lettres in 1986, awarded a British knighthood in 1988 and made a Companion of Honour in 2001. He was Henry Purcell Professor of Music at King's College, University of London (1995-2001) and is currently a Visiting Professor at the Royal Academy of Music in London. Recordings of Birtwistle's music are available on the Decca, Philips, Deutsche Grammophon, Teldec, Black Box, NMC, CPO, Metronome and Soundcircus labels. Harrison Birtwistle is published by Boosey & Hawkes. _December 2017_
Reproduction Rights
This biography can be reproduced free of charge in concert programmes with the following credit: Reprinted by kind permission of Boosey & Hawkes
Bestselling Titles by Harrison Birtwistle