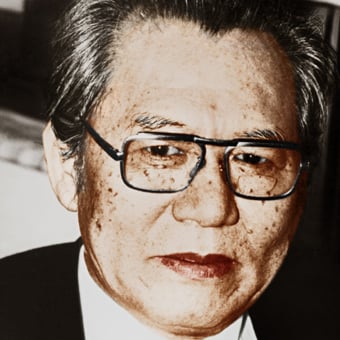 "I was born in Korea and project that culture, but I developed musically in Europe. I don't need to organise or separate elements of the cultures. I am a unity, a simple person. It's a synthesis." — Isang Yun

After being kidnapped from Germany in 1967 by the South Korean Secret Service, transported to Seoul, tortured and sentenced to death, Isang Yun composed the opera Butterfly Widow in prison on the floor of his cell! It was not his first time in prison - his active resistance against the Japanese occupation of Korea had made him a political prisoner until the end of World War II. This time, the international composing community caused enough diplomatic pressure for his release to Germany in 1969.

Yun's music successfully combines elements from East and West, his works exploring aesthetic and philosophical issues relating to Asian traditional music, Chinese Taoism and Western avant-garde compositional procedures. In the last 20 years of his life, he concentrated on the concerto form, and composed 5 symphonies. Unsurprisingly, his music was influenced by humanitarian concerns.

Click on the links above for further information.
Bestselling Titles by Isang Yun