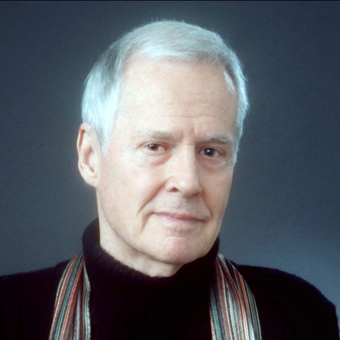 Ned Rorem has been called by Time magazine "the world's best composer of art songs". He shuns the convoluted and strives for clarity, championing tonality throughout his career in his lyrical yet forthright music. He received the Pulitzer Prize in 1976 for his orchestral suite _Air Music_. His output spans nearly every musical medium, plus sixteen books, and his recent chamber works have been widely performed and recorded; but he remains best known for his large outpouring of exquisitely-fashioned vocal music, which communicates intimately with the listener.

"I conceive all music...vocally. Whatever my music is written for - tuba, tambourine, tubular bells - it is always the singer within me crying to get out." — Ned Rorem

Works by Rorem include:
_Lions (A Dream)_ (1963) for jazz group and orchestra
_Piano Concerto for Left Hand and Orchestra_ (1991)
_Concerto for English Horn and Orchestra_ (1993) commissioned by the New York Philharmonic
_String Quartet No4_ (1995)

Click on the links above for further information.
Bestselling Titles by Ned Rorem