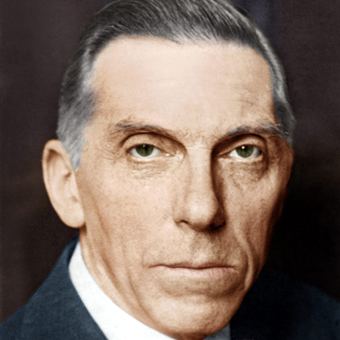 Roger Quilter
1877 - 1953
Quilter was one of the most successful and prolific of English song writers. Having been influenced by Schubert, Schumann, songs of Maude Valérie White, and by French mélodies (particularly those by Fauré), he demonstrated a refined development from Victorian drawing room ballads. And though a man with modest aims, by 1910 his music had quickly become popular with the Edwardian public, and his orchestral works soon became light music favourites. Quilter was a master of lyrical line, sensitive accompaniment, and precise verbal accentuation - and as a result of this, he became a pivotal figure for the generation of interwar song composers (such as Peter Warlock).

Works by Roger Quilter include:
'Shakespeare Songs Vol I-III' (1905-33) for voice and piano
'To Julia' (1905) Song cycle for voice and piano and instruments
'Seven Elizabethan Lyrics' (1908) for voice and piano
'As you like it: Suite' (1920) for small orchestra

"...melodious and ultra-refined music... There is a naturally free-flowing effortlessness and tenderly self-effacing quality to these pages which makes them all the more priceless and inimitable." — Fanfare

Click on the links above for further information.
Bestselling Titles by Roger Quilter