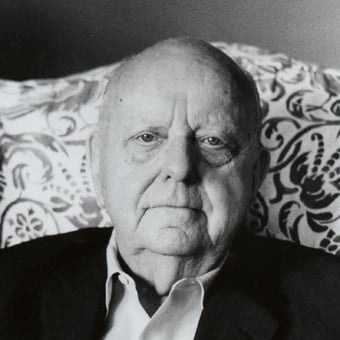 Virgil Thomson
1896 - 1989
Virgil Thomson, a trained pianist and organist, studied composition at Harvard University and with Nadia Boulanger in Paris. He settled in Paris from 1925 to 1940, where he was influenced by 'Les Six', Eric Satie and Stravinsky, and he also collaborated with Gertrude Stein on an innovative series of stageworks.

Thomson drew wide inspiration from hymn tunes, cowboy songs, baroque fugues, tangos and parlour waltzes - his music is characterised by clarity, irony and playful invention, and his harmonic style ranges from simple tonality to the occasional example of complex serial writing.

"My advice to young composers is, let your music sound like anything it wants to.... Don't calculate: submit yourself to the discipline of spontaneity. Anything is legitimate to mix with anything else if the miracle of unity or continuity occurs." — Virgil Thomson

Works by Thomson include:
Stabat Mater (1931) for soprano and strings
Filling Station (1937) Ballet
Crossing Brooklyn Ferry (1958) for chorus and orchestra

Click on the links above for further information.
Bestselling Titles by Virgil Thomson