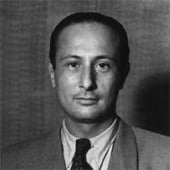 Wladyslaw Szpilman
1911 - 2000
Szpilman was a Polish pianist and composer. After having to leave Germany in 1933 where he had studied with Arthur Schnabel and Franz Schreker, he enjoyed great success back in Poland. However, his career was abruptly broken off by Germany's attack on Poland in 1939, and he was forced into the Warsaw ghetto, which he managed, miraculously, to survive.
In 2002, his memories of that period were made into a triple oscar-winning film by Roman Polanski as 'The Pianist'.

He composed about 500 songs, many of which are still popular in Poland today, and also a few larger works including the piano suite 'The Life of Machines' and the 'Concertino' for piano and orchestra which he finished in the ghetto. His amalgamation of serious and popular music is rooted in the stylistic tradition of the twenties, and the rhythmic verve and compact forms make Wladyslaw Szpilman's compositions ideally suitable for dance adaptation.

Works by Wladyslaw Szpilman include:
'Waltzes in the olden style' (1968) for orchestra
'Concertino' (1940) for piano and orchestra
'Little Overture' (1968) for orchestra

"Every graduate... at the conservatoire is able to compose a Symphony, and maybe it will even receive a performance. But to write a melody which is sung and played by hundreds of interpreters is something one really has to be born to – ideally in America. A good thing for us (not for him, as one has to admit) that Wladyslaw Szpilman, our Cole Porter, Gershwin, McCartney, was born in Poland... Szpilman's songs evoke the sound of an era of elegance, of good manners, of gracious women and of jazz music." – Wojciech Kilar

Click on the links above for further information.
Bestselling Titles by Wladyslaw Szpilman