David T. Little's Provocative JFK Opera Dazzles in Montreal
(February 2018)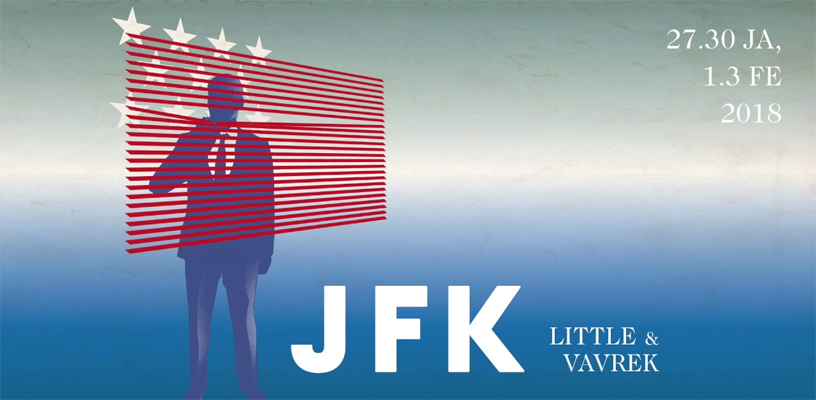 The second production of composer David T. Little and librettist Royce Vavrek's opera JFK was presented by Opéra de Montréal January 27–February 3, 2018. Critics and audiences responded strongly to the music and provocative story about President John F. Kennedy's final 12 hours before his assassination.


Huffington Post (by Sophie Jama) [Original article in French]
"How did Jack and Jackie experience the last moments of their life together, without for a moment suspecting the dramatic encounter that history had in store for them? This is the question answered by the sensational opera JFK, with its magnificent libretto by Royce Vavrek and superb music by David T. Little—two incredibly talented young artists who, although very much of their moment, subscribe to the classical opera tradition."

"Although, strictly speaking, there are no biographical events in this beautiful opera, JFK does give an anthology of situations, each of them an opportunity to offer up music that is consistently beautiful and varied in style—allowing us to enter the minds of the characters through the magic of the cast's superb voices. Emotions and surprises abound for opera lovers in this magnificent work."

Huffington Post (by Ismael Houdassine) [Original article in French]
"A work whose boldness is matched only by ambition."

"Opera is a bold genre, and this work by American composer David T. Little and Canadian librettist Royce Vavrek is part of this current operatic movement that plays on the themes of our contemporary history to better reveal its human tragedies."

"Each character is dissected, their complexities meticulously mined to create a modern opera that's fully self-assured."

CBC / Radio-Canada [Original radio feature in French]
"[The audience was] younger, a lot younger ... We truly witnessed a renewal in the attendance of the opera. There is a real interest for what has been done. This is a contemporary opera. It tells a story that we know, that is not that far in time. It was "digestible"—someone who does not know anything about opera would not be shaken. It is a beautiful way to get in there. This is an exquisite turn that Opéra de Montréal took with this partnership."

Le Devoir [Original article in French]
"This JFK, with all its multimedia, neon and effective projection, sports the technical paraphernalia and the defeats and emptiness of our 21st century. I loved its hatched rhythm, its arrhythmic heartbeat, and the mechanics of its staging, sets and lights, conjuring up flashbacks on a rotating platform."

Magazine Culturel [Original article in French]
"Enchanting music and an original libretto: This was the challenge met with aplomb by David T. Little and Royce Vavrek."

La Fabrique Crepue [Original article in French]
"Young creators David T. Little and Royce Vavrek, the respective composer and librettist of JFK, managed to give me all the glitz, the neon and the grandeur that I've been wanting to see at the Opera for the last two years … JFK stands out for its originality, its boldness and its provocative spirit."

"Striptease, cheerleaders, fringed costumes—everything is colorful, intoxicating, grandiose."

"JFK is a truly innovative work—an opera that's not dull in the slightest, that keeps you gawping and grinning broadly from your velvet seat."
Photo: Courtesy of Opera de Montreal

Boosey & Hawkes Composer News