James MacMillan's St John Passion Receives American Premiere in Boston under Sir Colin Davis
(January 2010)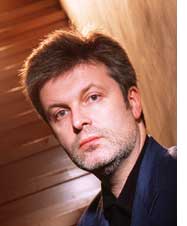 Sir Colin Davis leads the Boston Symphony Orchestra and Tanglewood Chorus in the American premiere of James MacMillan's St John Passion at Symphony Hall in Boston on January 21-23 at 8:00 PM. MacMillan will travel from Scotland for the premiere. Dedicated to Sir Colin Davis in honor of his 80th birthday, St John Passion is scored for solo baritone, chorus, and orchestra and was premiered April 27, 2008 by the London Symphony Orchestra and Chorus with baritone Christopher Maltman. The piece has travelled widely since its premiere with performances in Berlin and Amsterdam last year and with future performances in Copenhagen and London over coming months. For the Boston performances Maltman returns in the role of Christus.

Drawing texts from The Revised Standard Version of the Bible (English) as well as the Vulgate (Latin), MacMillan's intimate knowledge of Catholic liturgy and his love of Bach's St John Passion prevail.

Says MacMillan: "St John's version of the Passion story is the one I know the best, because it is recited or chanted every Good Friday as part of the Catholic liturgy. I myself have taken part in this most years since I was a student at Edinburgh University, chanting the Gregorian and Dominican musical settings. John, of course, was one of the original disciples, a beloved friend of Jesus, who took Christ's mother into his own home after the crucifixion. He was an eye witness to these events and seemed to have a profound inside understanding of what happened, and the spiritual significance of Christ's words, from his astonishing court-room battle with Pilate to his last utterances on the Cross. This aspect is also apparent in Bach's St John Passion, and is the reason why this is my favourite among all his works. ..." MORE...

Acclaim for MacMillan's St John Passion
"...MacMillan has come up with a masterly work that has all the hallmarks of a 21st-century classic.... [He] is a master of ratcheting up the tension, building the drama, his subtle use of syncopation adding to the effect. But he can also turn his hand to the most lyrical, vulnerable music. There is a tremendous sense of wonder for Christ's 'This is my body' passage, and again for the Crucifixus, a dream-like sequence that seems to exist in another dimension... There is another mesmerizing passage in 'Jesus and his Mother' where the two choruses sing together, interweaving their lines with great beauty."
—Musical America

"MacMillan gives Christ elaborate, declamatory passages full of anger and bitterness. This is not a saviour going submissively to the cross, but a furious rebel."
—The Observer

"A blazing blockbuster, a piece as fiercely communicative as anything that the 48-year-old MacMillan has written before.... The end of Part One was masterly: no loudspeaker wailing as the Crucifixion loomed, but a resigned, pianissimo meditation, threaded with keening instrumental solos."
—The Times

"The compelling performance transcended the score's significant technical demands to underline the depth of feeling and tremendous emotional impact that MacMillan has achieved in this powerful score."
—Daily Telegraph

"A riveting and remarkable work; a new-minted classic"
—The Scotsman

A pre-concert talk will be given before each performance by Robert Kirzinger, BSO's Assistant Director of Program Publications, Editorial, from 6:45 PM–7:15 PM at Symphony Hall and is free to performance ticket holders.

Listen to the St John Passion in our audio-visual area or view (5mb) a score sample.

For a review copy of the recording or for a perusal score, contact jessica.schmitz@boosey.com.
Photo credit: Eric Richmond

Boosey & Hawkes Composer News