Reich: Daniel Variations reviews from London and New York
(December 2006)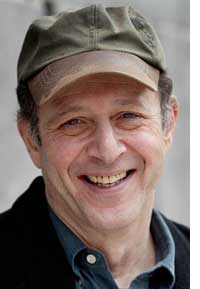 Steve Reich: Daniel Variations reviews from London and New York
"Reich's friends. Reich's colleagues. And Reich's adoring fans. They were all there for the final flourish of the composer's 70th birthday party. As was the composer himself… ready to receive the bravos for his newest work, Daniel Variations." So wrote The Times of the world premiere within the Barbican's 11-event Reich celebration in October, noting that "those bravos were deserved. In confronting the murder of Daniel Pearl, the Jewish-American journalist killed horrifically by Islamic extremists in 2002, Reich faced a dramatic challenge with no model in his work to date. And the first music we hear in the Variations, set to a discomforting line from the biblical Book of Daniel, is dark and disturbed, traced through the fierce patterns of pianos and vibraphones. It's not the Reich we know.



"But the contrasting aura is celebratory. The freewheeling string quartet drawn from the Steve Reich Ensemble draws on <?xml:namespace prefix = st1 ns = "urn:schemas-microsoft-com:office:smarttags" /><st1:city w:st="on"><st1:place w:st="on">Pearl</st1:place></st1:city>'s love of the jazz violin, while the singers from Synergy Vocals call out the journalist's name with a crystalline openness. The ideological clash between the two moods is inspiring: the vocal canons flicker between ghostly alarm and triumphant affirmation, while the alternating textures of strings and vibes give the whole piece a turbulent sweep. It's much, much more than a memorial."  The Times

Daniel Variations was co-commissioned by Barbican Centre, Carnegie Hall, Daniel Pearl Foundation, Cité de la Musique Paris and Casa da Musica <st1:place w:st="on">Porto</st1:place>. Following its premiere in <st1:city w:st="on">London</st1:city>, the work travelled to <st1:state w:st="on">New York</st1:state> where an expansive Reich celebration brought together three rival promoters: <st1:place w:st="on"><st1:placename w:st="on">Lincoln</st1:placename> <st1:placetype w:st="on">Center</st1:placetype></st1:place>, Carnegie Hall and Brooklyn Academy of Music. Recent months have seen Daniel Variations toured by Steve Reich & Musicians to <st1:country-region w:st="on">Portugal</st1:country-region> and <st1:country-region w:st="on">France</st1:country-region>, the German premiere presented by Ensemble Modern in <st1:city w:st="on"><st1:place w:st="on">Munich</st1:place> </st1:city>, and the first US West Coast performance by the Los Angeles Master Chorale.

"Daniel Variations [is] a haunting work that circles around alternating ideas of celebration and discord, the latter represented literally by the bitter harmonic interval of a second, which nags away somewhere in the score, even when the music attains the quintessentially Reichian qualities of hypnotic rapture." The Guardian

"In the most recent pieces Reich has consolidated four decades of invention. Neon-lit textures have given way to dense, dusky landscapes, with tender lyrical passages at the heart of each piece. It's as if Reich were finally letting himself look back in time, perhaps even indulging a secret Romantic urge. Yet, in the tribute to Daniel Pearl, there is also a new influx of coiled power: fleets of pianos and percussion tap out telegraphic patterns, warning of the next big crash." The New Yorker

Reich is currently working on Music for 12 Musicians, commissioned by the American ensemble Eighth Blackbird for premiere in spring 2008.
Photo: Wonge Bergmann

Boosey & Hawkes Composer News