Score of Stravinsky's Funeral Song now published
(April 2017)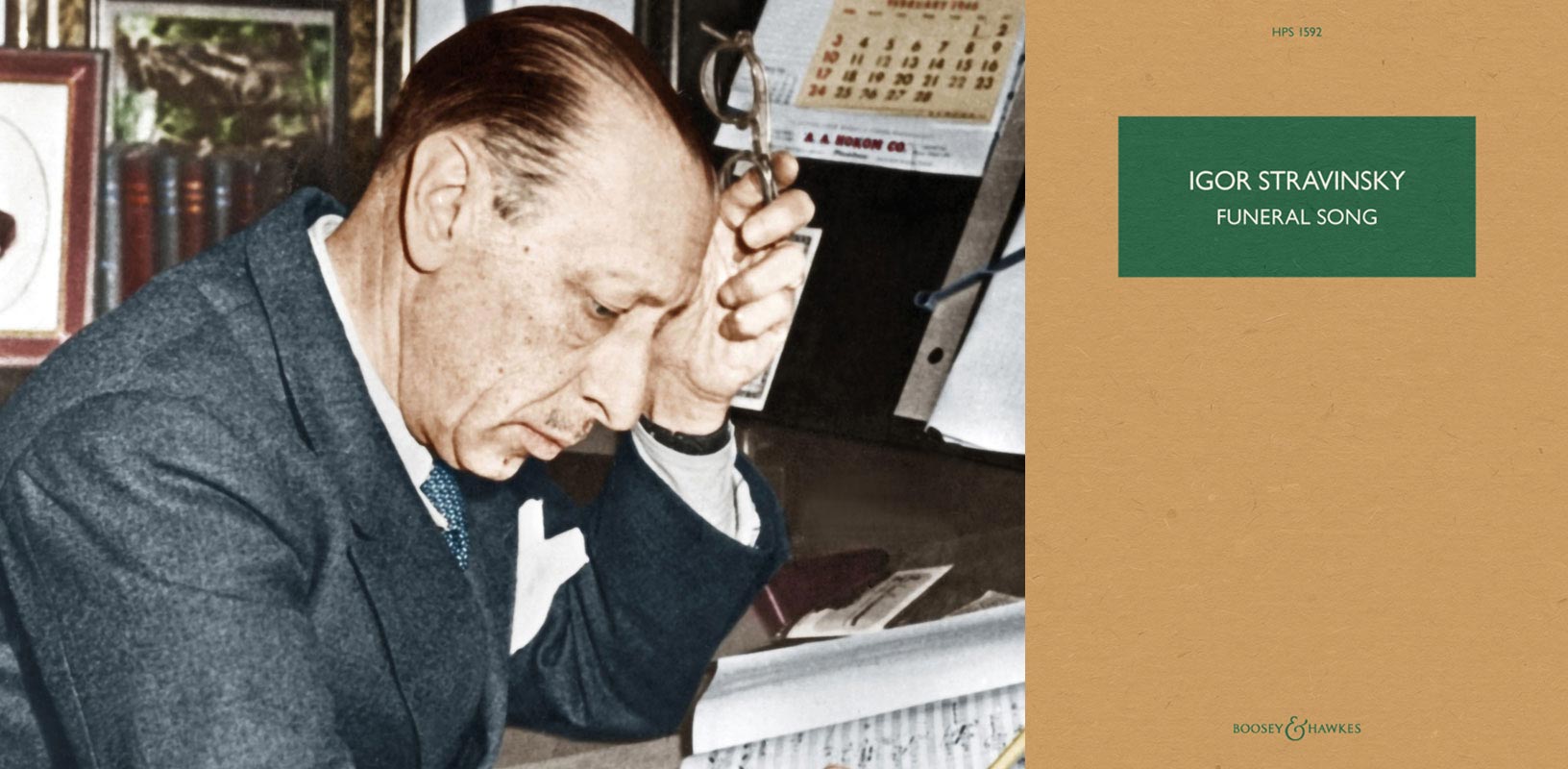 The first publication of Igor Stravinsky's Funeral Song, lost for over a century, is now available from Boosey & Hawkes. The study score joins the list of Stravinsky orchestral works in the classic Hawkes Pocket Scores series.
Boosey & Hawkes has released a study score of Stravinsky's Funeral Song, the first publication of the work rediscovered in 2015 after disappearing from public view and performance for 106 years. The score was launched at the Frankfurt Music Fair as a highlight on the Boosey & Hawkes stand at the annual gathering of worldwide music publishers. The new publication joins the prestigious Hawkes Pocket Score series which includes a wide selection of Stravinsky's greatest works. The score is available from all good music shops including The Shop at Boosey.com.

> Order the Funeral Song study score 

The music of Igor Stravinsky's Funeral Song (Pogrebal'naya Pesnya) op.5, composed by the young composer as an orchestral memorial tribute to his teacher Nikolai Rimsky-Korsakov, disappeared after its only performance in 1909, returning to light last year in the library of the St Petersburg Rimsky-Korsakov State Conservatory. The rediscovery has aroused immense interest around the musical world, offering a view on the young composer between his early works and his ballet The Firebird which was to launch his international career with Serge Diaghilev's Ballets Russes.

The new study score includes a preface by Dr Natalia Braginskaya whose musicological sleuthing led to the rediscovery of the work in St Petersburg. She describes how "the sensational find was made in the St Petersburg Conservatory, at the time of the urgent move from the historic building at no 3 Theatre Square, which was closed for major repairs - the first in its 120 years' existence. During the hasty packing up of many tons of piano and orchestral scores, there turned up in the music library room a previously inaccessible store of old orchestral scores, not listed in the catalogue. And there, among other manuscript materials, was found a complete set of orchestral parts for Igor Stravinsky's Funeral Song for large symphony orchestra with triple wind."

The score was reconstructed from the complete set of parts and prepared for publication, alongside performing materials which are now available upon request from the Boosey & Hawkes Rental Library. The 12-minute work is travelling the globe, scheduled by the world's leading orchestras and conductors, with premieres in 17 countries and over 75 confirmed performances this season and next. Coming months bring Funeral Song performances in New York and Tokyo under Esa-Pekka Salonen, Turin with James Conlon, Berlin with Simon Rattle, Sydney and Tanglewood with Charles Dutoit and at the Lucerne Festival with Riccardo Chailly.

Boosey & Hawkes Composer News