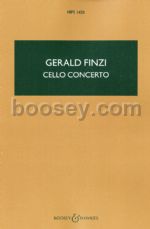 description: Study Score - Hawkes Pocket Score 1420
ISMN 9790060120602
Publisher Boosey & Hawkes (London)
Availability: Stock Title
Large-scale work which dominated the final year of Finzi's life and was first broadcast on the night before his death in 1956. Barbirolli championed the concerto actively, and in the years since the composer's death the work has become increasingly admired and performed as one of Finzi's most eloquent and richly inventive scores. The solo writing for cello, whilst remaining in a traditional orbit, is the most virtuosic of any of his works. The concerto attracts a growing list of solo interpreters. Edited by Jeremy Dale Roberts, music adviser to the Finzi Trust; solo part edited by Raphael Wallfisch.
Contents

01 Allegro Moderato
02 Andante quieto
03 Rondo Adagio - Allegro giocoso
---
There are currently no reviews for this product.
[Tell us what you think]