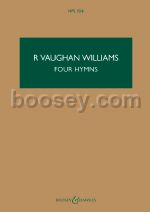 description: Tenor, Viola, String Orchestra
ISMN 9790060126666
ISBN 9780851629087
Publisher Boosey & Hawkes (London)
Availability: Stock Title
Level of Difficulty: Advanced
The Four Hymns are in similar vein to the Five Mystical Songs (1911) although on a smaller and more intimate scale. Together with the Fantasia on a Theme of Thomas Tallis these form a succession of works displaying a strong mystical, meditative content. The first of the hymns, 'Lord! come away!', employs vigorous Purcellian recitative in a setting of a Palm Sunday text from Bishop Jeremy Taylor's Golden Grove (17th century). 'Who is this fair one?' (Isaac Watts, 1674–1748) is a dialogue for the tenor and viola about divine love. As described by Christopher Palmer, 'Come Love, come Lord' (Richard Crashaw, c1613–49) "breathes that spirit of mystical remoteness later to inform A Pastoral Symphony". The final 'Evening Hymn', is a radiant setting of a translation from pre-4th century Greek by Robert Bridges, notable for its contrapuntal expertise over a bell-like basso ostinato. Four Hymns is also available in the version for tenor, viola & piano (979-0-060-02852-6), and the score serves as the vocal score for use with the orchestral version. However, the solo viola part of the orchestral version is incompatible with that for the piano version.
Contents

Come Love, come Lord (Richard Crashaw)
Evening Hymn (Robert Bridges)
Lord! come away! (Jeremy Taylor)
Who is this fair one? (Isaac Watts)
---
There are currently no reviews for this product.
[Tell us what you think]