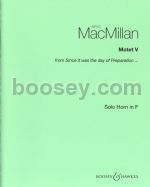 from "Since it was the day of Preparation …"
description: Horn
ISMN 9790060129629
ISBN 9781784540609
Publisher Boosey & Hawkes (London)
Availability: Stock Title
Level of Difficulty: Advanced


Extended instrumental solo taken from MacMillan's 90-minute "Since it was the day of Preparation" for voices & ensemble, commissioned by the Hebrides Ensemble, Edinburgh International Festival, Soli Deo Gloria and Kings Place, and first performed by the Hebrides Ensemble at the 2012 Edinburgh Festival.



The parent work sets the Resurrection narratives from St John's Gospel. Five instrumental solos for different instruments (theorbo, cello, clarinet, harp, horn) are reproduced unabridged. They serve as prologue and interludes at respective points of the work.
There are currently no reviews for this product.
[Tell us what you think]