Adams Doctor Atomic and A Flowering Tree
(November 2007)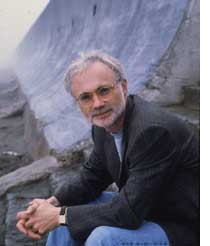 Adams Doctor Atomic and A Flowering Tree in Chicago
Chicago Premieres of John Adams's operas Doctor Atomic and A Flowering Tree with future performances in New York, Amsterdam, and London
Lyric Opera of Chicago and Chicago Opera Theater will bring
John Adams
's two newest operas –
Doctor Atomic
and
A Flowering Tree
– to Chicago audiences over the next few months. Both operas have received multiple performances since their respective world premieres in 2005 and 2006.
Doctor Atomic
(2005) will have its Chicago premiere at Lyric Opera of Chicago under the baton of Robert Spano at the Civic Opera House on December 14, with subsequent performances on Dec. 17, 19; Jan. 5, 9, 12, 15 and 19. Directed by librettist Peter Sellars, this production received its world premiere at San Francisco Opera in 2005 and recently travelled to the Holland Festival for its European premiere. Doctor Atomic is a co-production of San Francisco Opera Association, the Netherlands Opera, and Lyric Opera of Chicago.
Says Los Angeles Times: "Doctor Atomic is a magnificent accomplishment that easily takes its place alongside the other Adams-Sellars triumphs –
Nixon in China
,
The Death of Klinghoffer
and
El Niño
– and in important respects goes beyond them. It contains music of unearthly splendor and gorgeous lushness, and its rich expressivity will take many hearings to absorb. The libretto that Sellars has ingeniously collated from documentary material and poetry is a singular accomplishment that deeply humanizes yet also profoundly mythologizes its subjects and subject matter."
Looking ahead, The Metropolitan Opera and English National Opera have announced a new co-production of
Doctor Atomic
, to be staged by Penny Woolcock, director of the acclaimed
Death of Klinghoffer
film. The Metropolitan Opera production is scheduled for October 2008. In addition, a DVD version of the Amsterdam production of
Doctor Atomic
, directed by librettist Peter Sellars, is currently in production.
In May, Chicago will hear Adams's most recent opera, when Chicago Opera Theater presents the Chicago premiere of
A Flowering Tree
(2006) at the Harris Theater in Millenium Park on May 14 with subsequent performances on May 17, 20, 23, 25, under the direction of Nicola Raab. John Adams will conduct the first two performances and Joana Carneiro, Assistant Conductor at the Los Angeles Philharmonic, will conduct the last three.
The Financial Times writes: "
A Flowering Tree
deserves to take root in the repertoire – if only for the score, an expertly crafted mirage of sound, pulsating with rhythmic and harmonic vitality. Sibelius, Stravinsky, New England lyricism and Minimalism all make an appearance, but the overall effect is of a trance-like dream with an ecstatic climax…. This is Adams at his most shimmering and seductive."
Along with the New Crowned Hope festival,
A Flowering Tree
was co-commissioned by San Francisco Symphony, Barbican Centre (London), Lincoln Center for the Performing Arts (New York), and the Berliner Philharmoniker who gave semi-staged performances in December under the baton of Simon Rattle. Following the world premiere in Vienna, the work has travelled to San Francisco and London, with further performances scheduled in Amsterdam and a full-staging planned at Lincoln Center in 2009.
> Further information on Work: Doctor Atomic
Photo: Christine Alicino
> News Search
Mailing List
Sign up for news updates and offers via email
SIGN UP
ONLINE SCORES