Featured Opera
OCEANE
Detlev Glanert's new opera introduces a mysterious woman from the sea in Robert Carsen's staging at the Deutsche Oper in Berlin (28 April - 24 May)
READ MORE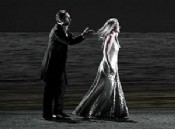 Opera News
Boosey & Hawkes is sad to announce the death of leading opera and art song composer Dominick Argento, who passed away aged 91 on February 20, 2019, in Minneapolis, Minnesota.

John Adams's Gold Rush opera, Girls of the Golden West, is staged in Europe for the first time by Dutch National Opera in Amsterdam, opening on 28 February.
Explore our 500 operas, music theatre works, operettas and musicals - from classics by Offenbach, Tchaikovsky, Strauss and Britten to the latest contemporary operas.
Boosey & Hawkes also represents other publishers' stage catalogues in certain territories.