Adams: Flowering Tree reviews from Vienna & Berlin
(January 2007)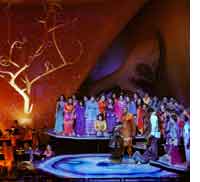 Adams: Flowering Tree reviews from Vienna & Berlin
The latest operatic collaboration between John Adams and Peter Sellars received a high profile premiere at Vienna's New Crowned Hope festival in November.



The New Crowned Hope series, planned by Peter Sellars, celebrated the creativity of Mozart with – perhaps refreshingly in the 250th anniversary year – scarcely a note of that composer's music. Its pan-cultural focus found full expression in Adams's modern retelling of an Indian folktale, combining narrative and poetry in English translation with choruses in Spanish written for the voices of the Schola Cantorum of Caracas.

Along with the New Crowned Hope festival, A Flowering Tree was co-commissioned by San Francisco Symphony, Barbican Centre (London), Lincoln Center for the Performing Arts (New York), and the Berliner Philharmoniker who gave semi-staged performances in December under the baton of Simon Rattle. The new work travels onwards with semi-staged performances in San Francisco (1-3 March) and at the Barbican Centre (10-12 August), and a full-staging at Lincoln Center (2009) – all conducted by John Adams. Further performances are planned in Amsterdam and Chicago.

"An expertly crafted mirage of sound, pulsating with rhythmic and harmonic vitality."
Financial Times

"An impoverished Indian girl transforms herself into a tree so that she can sell her blossoms at the prince's palace. The prince falls in love with her and they marry, but a jealous sister strips the tree of its branches, consigning the girl to the netherworld. The prince tries to find his beloved by becoming a beggar. Eventually he recognises her voice, she returns to human form and they are united.

"Fanciful? Naive? No more so than The Magic Flute, another love story about transformation, trial by fire and the redemptive power of music. Those themes resound through A Flowering Tree… This is Adams at his most shimmering and seductive, above all in the syncopated choruses and 'magical' instrumental effects…"
Financial Times

"Who could be more suitable than John Adams for a Sellars art project that can, in one breath, reconcile humanity as well as political, cultural and aesthetic opposites? … Adams knows how to mediate between the most heterogeneous influences in his score, between gospel tone and salsa rhythm, between ecstatically shimmering sound tableaux and cool minimalist twitches, between cantilenas and aggressive repetitive patterns."
Frankfurter Allgemeine Zeitung

"The score is opulent, dreamlike, fiercely lyrical, at times shadowy and strange – unlike anything that the fifty-nine-year-old composer has written… Despite the happy ending, this little tale is actually quite dark: Kumudha's failed transformation evokes all the wrecked natural beauty that the march of human progress has left in its wake. The point is driven home in the opera's last minutes, when Kumudha's final transformation occurs… This is a hard-won triumph, from which not all shadows have been banished."
The New Yorker

"…some of the most ravishingly beautiful passages of music that Adams has yet composed… [He] continues to develop and surprise - something of a late-flowering tree himself."
Daily Telegraph

Doctor Atomic receives its European premiere in Peter Sellars' production at the Holland Festival on 10 June.
> Further information on Work: A Flowering Tree
Photo: © Copyright Ruth Walz
> News Search
Mailing List
Sign up for news updates and offers via email
SIGN UP
ONLINE SCORES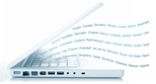 Explore our library of over 1000 online scores
VIEW SCORES