Carlisle Floyd: Of Mice and Men's Australian premiere
(November 2011)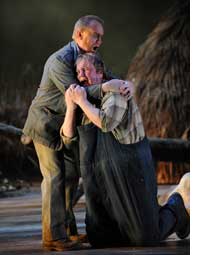 Carlisle Floyd's opera Of Mice and Men, based on the John Steinbeck novella, received a standing ovation at its Australian premiere in July.
Film director Bruce Beresford discovered Carlisle Floyd's Of Mice and Men when staging the premiere of the composer's Cold Sassy Tree in Houston in 2000 and was struck by the poignancy of the doomed dreams of the Depression-era characters. He was determined from that point to introduce the opera to Australian audiences, 40 years after its premiere. At the curtain call in Sydney, as reported in The Australian, "Beresford hushed the audience and introduced the 85-year-old composer. The outpouring of applause was fully justified. Of Mice and Men is a fine opera that has been given an outstanding production."

"The ovations owe much to the principals - Lennie, (Anthony Dean Griffey) and his protector George (Barry Ryan) – drifting workers in the Depression bound by an unlikely bond of love and hope. Beresford and the singers have established an endearing chemistry in this relationship, creating the conditions for a closing scene that is emotionally powerful and universal in its themes… Floyd has used music to counterpoint emotions and create intensity and transcendence, things at which opera uniquely excels…"
Sydney Morning Herald

"Lennie's curse is heavy-handedness - he crushes everything he loves - but Griffey touches soft, high notes with the gentlest caress… [Griffey's] Lennie was no hulking caricature of idiocy but a tortured, uncomprehending man-child whose confused longing for a better life was genuinely moving… Like an innocent animal, Lennie is unaware of the vicious, predatory powers that surround him… compelling stuff and a worthy addition to Opera Australia's repertoire."
Sydney Central Courier

"Carlisle Floyd's aim was to capture the novella's tautness and 'spareness' in his music. He has succeeded admirably. Astringent dissonances, arresting woodwind and brass figures and passages of haunting, sparse textures spice up his melodic inspirations to create a score that cleverly blends poignant lyricism and dramatic intensity."
The Australian

Following its July run at the Sydney Opera House, Of Mice and Men travels to the Arts Theatre in Melbourne on 26 November. Floyd's classic Susannah remains the most performed opera in America by a living composer and a new German staging opens in Hagen in March. Wuthering Heights, Floyd's 1958 opera based on the Emily Brontë novel, receives its European premiere at the Freiberg Opera in February.
> Further information on Work: Of Mice and Men
Photo: Of Mice and Men at Australian Opera (Branco Gaica)
> News Search
Mailing List
Sign up for news updates and offers via email
SIGN UP
ONLINE SCORES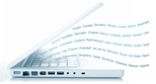 Explore our library of over 1000 online scores
VIEW SCORES