Four Britten films by Tony Palmer in new box set
(July 2012)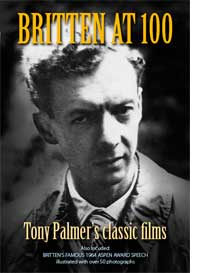 A special collection of Tony Palmer films about Benjamin Britten and his music are included in a new box set of DVDs, released in advance of the composer's centenary in 2013.
Tony Palmer, acclaimed as one of the world's leading directors of music documentaries and historical drama films, has released a box set with four of his Britten films on DVD. Together with A Time There Was, which won Palmer the Italia Prize, are three of the director's films not seen for 30 or more years, collected in the Britten at 100 box set and accompanied by a special 58 page booklet. Also included is Britten's famous 1964 Aspen Award Speech, illustrated with over 50 photographs.

> Buy the Britten at 100 box set from our online shop


Benjamin Britten and his Festival was made for the BBC in 1967 to commemorate the opening of Snape Concert Hall and has not been seen for over 40 years. It offers a behind the scenes look at the Aldeburgh Festival and the opening by The Queen of the new concert hall at Snape.

"A superb film (which) may well achieve the status of a classic, repeated again and again over the years… the brilliant editing (was) of the highest quality, making a natural partnership of music and picture."
The Daily Telegraph

The Burning Fiery Furnace is a film about the recording of the church parable in Orford Church, also made for the BBC in 1967, and also not seen for over 40 years. It is a major historic document as it provides the longest single piece of film of Britten working, with a cast including Peter Pears, John Shirley-Quirk and Robert Tear and instrumentalists hand-picked by the composer

Death in Venice was made on location in Venice in 1981 and has also not been seen for 30 years. After Britten's death, Peter Pears asked Palmer to make a film version of the opera if possible on location in Venice, the place which meant most to the composer other than his beloved Suffolk. From the orginal cast, John Shirley-Quirk and James Bowman were reassembled with Australian tenor Robert Gard taking Pears's role of Aschenbach, and Steuart Bedford conducting the English Chamber Orchestra.

A Time There Was was made in 1979 at the request of Peter Pears and this release sees it newly re-mastered in wide-screen stereo. Appearing in the documentary are Janet Baker, Julian Bream, Richter, Leonard Bernstein, Britten's brother and sisters, Pears himself and a host of the composer's close friends.

Tony Palmer writes: "I was determined to pay tribute to a composer and a man whose very existence had haunted most of my professional life... Since that moment over 50 years ago when I sat stunned in Coventry Cathedral at the premiere of the War Requiem (as did everyone else), I have always known that I was in the presence of the greatest composer of our time."

> News Search
Mailing List
Sign up for news updates and offers via email
SIGN UP
ONLINE SCORES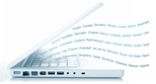 Explore our library of over 1000 online scores
VIEW SCORES