Gruber's Nordwind: resounding success in Zürich
(August 2005)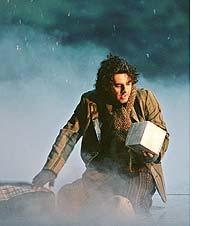 Gruber's Nordwind: resounding success in Zürich
"
HK Gruber
has just had a resounding success in Zürich with his new opera,
Der Herr Nordwind
…" So wrote the Financial Times following the work's premiere in June, conducted by the composer.
This production fulfilled Gruber's dream of realising an operatic collaboration with Austrian poet H C Artmann, whose texts he had set to such effect in
Frankenstein!!
and
Zeitstimmung
. Commissioned by the Karajan Zentrum in Vienna, the fairytale opera was planned by Gruber and Artmann to be "just as magical for adults as for children" and the poet completed the libretto a year before his death in 2000.
Zürich Opera secured the premiere of
Der Herr Nordwind
and assembled a strong cast including Oliver Widmer in the blustering role of Mr North Wind and Cornelia Kallisch comically cross-dressing as the sly Prior who appropriates his magical boxes. Die Welt described how "Michael Sturminger staged the piece fabulously, full of strange spacecrafts and poetic images. In other words, a truly pleasurable evening's entertainment …"
"You are allowed to laugh. And you will. With its new world premiere, Zürich's opera house has a hit. HK Gruber's
Der Herr Nordwind
, written with Viennese poet HC Artmann, is wildly entertaining. It's also complex, original and satisfying… [It] is a rare thing indeed, a new comic opera which is both truly new and truly comical. Unlike so many world premieres, this is a work that has every chance of entering the repertoire. We will certainly hear more of it."
Bloomberg.com
"HC Artmann, the Austrian verbal acrobat, could not have hoped for a better composer than HK Gruber to turn his only opera libretto into music. The composer sensitively traces the onomatopoeic language impulses; he emphasises the aural diversity of each word with distinctive orchestral colours; he intertwines playfully speech and musical rhythm, and lets the music serve the narrative."
Die Presse
"…The "fairy tale" concerns a ruined farmer and his wife, Geppone and Anna. Geppone travels to Mr North Wind's castle to beg help and is given a magic box that produces food for his family. When that is snaffled by the prior of the monastery, they go to North Wind for another. That box, too, is taken by the prior, but this is a mistake for the holy brethren. Space-suited baseball-players in Viking helmets leap out of it and bludgeon almost everyone to death. The stage becomes an Armageddon. Only Geppone and his family survive, blinking through the smoke at the carnage."
Financial Times
"Anyone who feels inclined can read very contemporary issues into Gruber's opera, also in relation to the exaggerated, cabaret-style characterisation of the powermongers, here in the shape of a particularly rotten church brotherhood … Together with Gruber's typically passionate musical manner, HC Artmann's creative language and speech ultimately turn into a rich, lively music theatre piece where speech sound, vocal quality and brass-rich orchestration combine beautifully…"
Frankfurter Allgemeine Zeitung
"What you hear is remarkably multi-dimensional music. When Gruber turns to musical realism and allows the wind to blow, he does so with an imaginative orchestration. Tonal elements rub shoulder with complex clusters, the whole is held together by way of a gripping dramaturgy…"
Neue Zürcher Zeitung
> Further information on Work: Der Herr Nordwind
Photo: Zurich Opera's premiere production of Der Herr Nordwind (Suzanne Schwiertz)
> News Search
Mailing List
Sign up for news updates and offers via email
SIGN UP
ONLINE SCORES