Harrison Birtwistle: recent stageworks travel in Europe
(March 2009)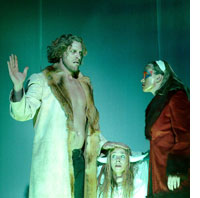 Harrison Birtwistle
's recent stageworks are receiving premieres in Germany, Italy, Austria and the Netherlands this season.
Following stagings at the Aldeburgh, Almeida, Huddersfield and Bregenz festivals,
The Io Passion
travelled to Berlin in November for a co-production by the Berliner Kammeroper and Konzerthaus, conducted by Peter Aderhold and directed by Kay Kuntze.
"In carefully graduated cycles of action we first see the couple going about their daily tasks. The woman falls more and more under the spell of the legend surrounding the moon goddess Io, who is coveted, mounted and then transformed into a white cow by Zeus, in order to hide her from Hera, the consort of the gods… The stage music, sparsely-scored for clarinet and string quartet, portrays the cycles with enhancements, overlays and short interludes. The clarinet shines with fine melodic commentaries on the vocal parts."
Der Tagesspiegel
"Birtwistle has composed a work to Stephen Plaice's libretto which almost seamlessly follows on from the febrile eroticism of those freely atonal works by the Viennese modernists around 1910… a finely-tensioned atmosphere of feeling and caressing, quivering and panting for 90 minutes… Literally a music which reveals the culture of formed speech in order to lead back into the pre-literate, the biological."
Berliner Zeitung
The 2008 Settembre Musica festival presented a concert performance of Birtwistle's millennial drama
The Last Supper
in Milan and Turin with the London Sinfonietta conducted by Elgar Howarth, drawing praise for its collective dramatic power as well as the beauty of its quiet instrumental interludes:
"
The Last Supper
well illustrates Birtwistle's talent for the stage, his multi-faceted, rounded style and his sensibility in communicating through music without intellectualised distractions. On many occasions emotions take a grip on the audience, emerging from the carefully crafted and dramatic vocal writing (bravo to the 14 singers) and drawing new energy from the varied orchestral lines."
La Repubblica
A new co-production of
The Last Supper
by Neue Oper Wien and the OsterKlang festival opens in Vienna on 4 April, directed by Phillipp Harnoncourt and conducted by Walter Kobéra. The production tours to the Kammeropera festival in Zwolle on 17 April for the opera's Dutch premiere.
Read an interview with Birtwistle about The Last Supper.
Read an article about Robin Blazer's libretto for The Last Supper.
Birtwistle's The Corridor to premiere in Aldeburgh
Birtwistle's new music theatre double bill opens the Aldeburgh Festival on 12 June, as part of a feature on the composer.
The Corridor
sets a libretto on an Orpheus theme by David Harsent with soloists Elizabeth Atherton and Mark Padmore and eight instrumentalists, and
Semper Dowland, semper dolens
features arrangements by Birtwistle of music from Dowland's lute songs and Seven Tears Figured in Seven Passionate Pavanes. Co-commissioned by Aldeburgh Festival and Southbank Centre for the London Sinfonietta, the double bill travels to London (6/7 July) and the Bregenz Festival (31 July/1 August).
> Further information on Work: The Io Passion
Photo: Matthias Rümmler (Kammeroper Berlin)
> News Search
Mailing List
Sign up for news updates and offers via email
SIGN UP
ONLINE SCORES