Mark-Anthony Turnage: Anna Nicole in Germany and USA
(June 2013)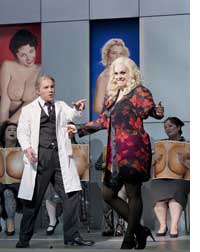 Mark-Anthony Turnage's opera Anna Nicole received its second production in Dortmund in April, and the original staging travels to New York in September.
Mark-Anthony Turnage's Anna Nicole, created with writer Richard Thomas, was hailed as "a masterpiece and milestone of contemporary opera" by Der Neue Merker reviewing the German premiere at the Theater Dortmund in April. The new production by Intendant Jens-Daniel Herzog, conducted by Jac van Steen, cast American rising star Emily Newton in her European debut role, attracting universal acclaim:

"The soprano who, like Anna Nicole Smith, hails from Texas not only has a great voice which the arias in this opera need, but also the lightness in her soprano voice which the jazz and musical echoes must have. And a gigantic stage presence."
Ruhr-Nachrichten

"Ultimately this 21st century masterpiece fits perfectly into the great operatic tradition of works about morally-fallen, or rather immoral, women, such as Traviata, Lulu or Manon… It's not an opera for voyeurs or pornographers, for Turnage approaches the theme with humour, but also with marked sobriety and social criticism... The result is "three cheers": a major, notable operatic evening, from the viewpoint of contemporary history too, at world-class level."
Der Neue Merker

The Richard Jones production of Anna Nicole receives its US premiere in September with seven performances to launch the BAM Next Wave Festival in conjunction with New York City Opera. Steven Sloane conducts, with a cast including Sarah Joy Miller in the title role, Rodney Gilfry, Robert Brubaker and Susan Bickley.

>Anna Nicole at BAM

The Jones production returns to London to open the 2014/15 season at The Royal Opera, where a new children's opera by Turnage, directed by Katie Mitchell, is planned for December 2015.
> Further information on Work: Anna Nicole
Photo: Theater Dortmund/Thomas M. Jauk
> News Search
Mailing List
Sign up for news updates and offers via email
SIGN UP
ONLINE SCORES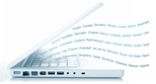 Explore our library of over 1000 online scores
VIEW SCORES