Olga Neuwirth's Lost Highway travels internationally
(April 2007)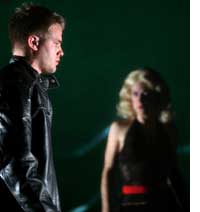 Olga Neuwirth's Lost Highway travels internationally
Olga Neuwirth's remarkable operatic adaptation of David Lynch's film Lost Highway, first staged in Graz and Basel in the 2003/04 season, crossed the Atlantic for its US premiere staging in February. The Oberlin College production by Jonathon Field, conducted by Timothy Weiss, was much praised in the press for its talented ensemble of student performers, who travelled on to the Miller Theatre at Columbia University for two New York performances.



Lost Highway arrives in London in April 2008 with a further new production by Diane Paulus for English National Opera, launching the company's new collaboration with the Young Vic theatre. The recent Kairos recording of the opera by Klangforum Wien has recently been awarded a Diapason d'Or (KAI 0012542).

"Neuwirth has done more than adapt a movie: She has created an ode to an artwork... A jittery musician; a sadistic gangster; his platinum-wigged moll; a Mephistophelian lurker; an honest, blue-collar kid... Neuwirth leads you through a landscape of musical explosions and violent images... Her instrumental music creates a disorienting world of distantly familiar scraps that flit by like a city seen from a hurtling car." New York Newsday

"A deep, disturbing film has met its operatic match… One of the leading young-generation composers in Europe and one of the most fearless, Neuwirth finds what is really going on with these people. She adds texture and emotional activity... She has a way with electronics, and the score for Lost Highway is full of extraordinary acoustical effects.... Live instruments are used straight but also have their sounds manipulated in real time... The result is a rich mix and an invitation to many listenings." Los Angeles Times

"Lost Highway is a work of phantasmagoric weirdness and theatrical acumen... Austrian composer Neuwirth and librettist Elfriede Jelinek have created a piece of cinematic propulsion that drips Modernism with violent and gripping dexterity... the voyage is a creepy roller-coaster ride, thanks largely to Neuwirth's anxious, prismatic score... The result is hallucinatory, often funny and strangely riveting." Cleveland Plain Dealer

Neuwirth's recent concerto for Håkan Hardenberger, "...miramondo multiplo...", offering multiple perspectives on the trumpet repertoire from Handel to Miles Davis, is also travelling widely. Following its Salzburg Festival premiere last summer conducted by Pierre Boulez, it was heard in Stockholm in March and reaches Amsterdam on 9 June. Next season it will be performed in Tokyo (4 September), Malmo (18 October), Montpellier (7 December) and Birmingham (5 March 2008).
> Further information on Work: Lost Highway
Photo: Lost Highway production by Oberlin College
> News Search
Mailing List
Sign up for news updates and offers via email
SIGN UP
ONLINE SCORES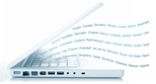 Explore our library of over 1000 online scores
VIEW SCORES