Prokofieff operas in Berlin, London and Vienna
(May 2010)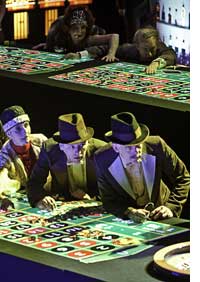 Prokofieff's operatic oeuvre has been explored recently with The Gambler in Berlin and London and The Fiery Angel in Vienna in a new reduced scoring.
Prokofieff's reputation as an opera composer may centre largely on his Love for Three Oranges, a staple internationally, but over the past decade there has been a growing reappraisal of his complete oeuvre, including the experimental early stageworks as well as the later operas composed after his return to the Soviet Union.

In an age of casino banking and sudden economic collapse The Gambler has found a new topicality with productions at major opera houses. The Berlin Staatsoper's 2008 staging conducted by Daniel Barenboim has been released on DVD by Unitel, the Suddeutscher Zeitung noting how 'the Prokofieff renaissance has reclaimed one of the composer's most daring, almost 'futuristic' pieces from neglect – a work that is nothing less than 'a discovery'. Richard Jones produced The Gambler this year for The Royal Opera in London, conducted by Antonio Pappano, with the Observer describing how "the story helter-skelters from start to finish… Snatches of melody match the vortex of Dostoevsky's original… the roulette wheel speaking of life itself, in which every win is another's loss."

The Fiery Angel was summarised at the acclaimed recent Vienna production by Philipp Harnoncourt as "an opera which vibrates with eroticism and esotericism, which conjures up religion, excess and exorcism, mysticism and hysteria" (Neue Merker). The work has frightened many opera houses with its fierce intensity and challenging lead soprano role, but the new reduced scoring used at the Odeon Theatre in Vienna offers the opportunity for casting with lighter voices and performances in smaller theatrical venues.

"Wolfgang Suppan really knows his craft as an arranger: over long passages he succeeds in translating the shimmering music, conceived for large orchestra, virtually intact to a version for just sixteen musicians… With the sonic intensifications and tightenings which the scoring for seven wind, six strings, piano and percussion allows, he turns the screw of modernism half a turn tighter still, without actually compromising the sounds."
Die Presse

Many of Prokofieff's stageworks suffered a complex history of cancellations, truncated performances and enforced revisions, no more so than War and Peace. So it was intriguing to experience the opera in a form returning close to the composer's original intentions in the recent collaborative staging by The Royal Scottish Academy of Music and the Rostov State Rachmaninoff Conservatoire. The Guardian described how "stripped of its ballast, what emerges is leaner and more muted, with some 90 minutes shorn off". The Times concluded the "original version is theatrically tighter, more lyrical – and a more practical proposition in these straitened times" but "missed those spine-shuddering choruses".

> Further information on Work: The Gambler
Photo: The Gambler at the Royal Opera House London (Clive Barda)
> News Search
Mailing List
Sign up for news updates and offers via email
SIGN UP
ONLINE SCORES