The Grand Duchess of Gerolstein at Sante Fe Opera
(June 2013)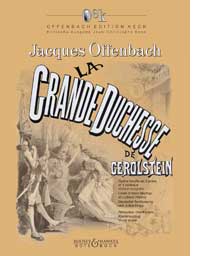 A new production of Offenbach's comedy brings exuberance to a classic
The Santa Fe Opera, one of America's leading opera companies, will present a new production of the critical Offenbach Edition Keck (OEK) of La Grande-Duchesse de Gérolstein (The Grand Duchess of Gerolstein) from June 28 – August 24. This production, starring acclaimed mezzo-soprano Susan Graham in the title role, is directed by Lee Blakeley and conducted by Emmanuel Villaume with scenic design by Adrian Linford.

The OEK is the result of many years of research by Jean-Christophe Keck, including on-stage trials in numerous productions over the past decade. The staging by Laurent Pelly in Grenoble and Paris, conducted by Marc Minkowski with Felicity Lott in the title role, was also recorded on an award-winning CD and DVD by Virgin Classics.

The new edition combines the four possible versions of the opéra-bouffe, respecting both detailed scholarship and practical performance issues. It draws upon the complete autograph score manuscript, sketches, printed copies, copyists' manuscripts, and the original orchestral material. Many Offenbach treasures are restored, including the original finale of Act I with the Carillon de ma grandmère—described in Opera International as "an incredible madcap and galloping firework"—the Grand Duchess's Méditation and the original Conspiracy Scene.

La Grande-Duchesse has long been a favorite for audiences with a subversive streak. Librettists Meilhac and Halévy didn't fight shy of poking fun at contemporary politicians and generals, even when the censor threatened to moderate their attacks. Statesmen flocked to attend performances in Paris, wary that they might themselves become the next victims of ridicule. The ongoing topicality of the rise and fall story has helped the piece retain its dramatic relevance, aided by Offenbach's sparkling and characterful music.

Watch director Lee Blakeley discuss this new production here.
> Further information on Work: La Grande-Duchesse de Gérolstein (OEK critical edition)
> News Search