Turnage's Anna Nicole: reviews from The Royal Opera
(February 2011)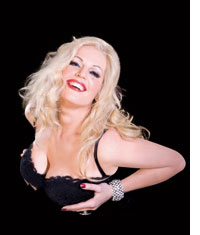 Mark Anthony Turnage's new opera, Anna Nicole, charts the rise and fall of the American glamour model and reality TV hostess. With a suitably celebrity-laden premiere at The Royal Opera in London on 17 February, and a sell-out run, the stagework sees the media turning the camera lens on itself in true ironic fashion.
>
Anna Nicole telecast on BBC Four
(25 March)
>
Anna Nicole broadcast on BBC Radio 3
(2 April)
"When people say that a celebrity's rollercoaster life would "make a good opera", they aren't usually being literal. But an opera, or at least an unusually discordant musical, is exactly what the British composer Mark-Anthony Turnage and writer Richard Thomas have made of the tacky and tragically short life of Anna Nicole Smith, the Playboy centrefold known for her massive fake boobs, marriage to a billionaire 62 years her senior, and death at 39 from an accidental drug overdose...
"It's jazzy, bitter-sweet, fizzing, moody and often touchingly tender. Five more performances, all sold out. But I wouldn't be surprised if this sardonic fable for our times finds a second life on screen or in the West End."
The Times
"Mr. Turnage's music is the primary reason that so much seemed so right in
Anna Nicole
. There are flashes of Weill in the clattering, cabaret-like scenes when the reporters, wielding microphones, mutter like a Greek chorus; and jazzy sneering brass writing in the scene with the dancers at the "gentleman's club" in Houston... The more reflective passages often take the surprising form of beguiling, varied waltzes. Mr. Turnage and Mr. Thomas have come up with a slew of operatic characters that singers are going to relish, as this cast did. The London audience ate it up. But so did I, because in the end this is a musically rich, audacious and inexplicably poignant work. The ovations were tumultuous."
New York Times
"I'll eat my six-gallon hat if it's not a stonking great hit... It's often very funny, but it's not just a crude farce with a downbeat ending: I think it is underpinned by genuine compassion for Anna Nicole and genuine scorn for the forces that mould, and then destroy her. What makes this opera so exciting, however, is that Turnage seems to have found precisely the right musical idiom for such a drama - an Americana, brashly orchestrated and violently propulsive which embraces jazz, blues, musical comedy, and lounge smooch so ingeniously and responsively as to transcend mere pastiche. It doesn't set out to be a complex or a subtle score, but it packs an irresistibly visceral punch."
Daily Telegraph
"It is already clear that the Royal Opera has picked a winner — a contemporary opera with wings that has to be revived and, I predict, that other companies will want to stage. Laugh-out-loud moments abound, but this is essentially a serious opera. Turnage, Thomas and Richard Jones, the director of the spectacular production, abruptly pull the carpet from under our feet in the second half, when Anna Nicole becomes an anything but merry widow, gets hooked on the prescription drugs that she needs for relief of the back pain brought on by her supersize silicone implants and loses the teenage son she has neglected, but adores, to a lethal cocktail of pills. Turnage's score strikes me as being entirely apt to the subject matter... If the first half is jazzy and the second more bluesy, these styles have always been aspects of Turnage's musical language, and perfectly suit his ends. His is a score both immediately attractive and dramatically purposeful, while Thomas's pithy text is integral to the success of an opera that hits all the G-spots."
Sunday Times
"Thomas's wickedly cynical lyrics combine the sophisticated acerbic bite of a Sondheim with the off-the-wall zaniness of Monty Pythyon... Turnage's eclectic jazz-tinged score - pungently played under conductor Antonio Pappano - splendidly captures the mood of this rasping, grasping American nightmare. But it is not without its moments of serenity and lyricism... The first-night audience cheered it mightily and laughed uproariously. But I suspect the last laugh was on us."
Daily Mail
"Right topic, right time... Richard Thomas's libretto would carry the day even if the score weren't as terrific as it is: varied, acidic, lyrical and occasionally heartbreaking. The death of Anna's son, Daniel, who sings only to utter the names of all the drugs he's been stuffed with, is suitably devastating... The orchestra and jazz band together pack a punch in Turnage's rhythmic score, punching out the jazz and blues enhancing the edgy but somehow edible atonality that is so characteristic of him... It's a tremendous show, fast-paced, spare and concentrated."
The Independent


>
Read an interview with Mark-Anthony Turnage about the creation of the opera
>
View the Royal Opera House trailer for Anna Nicole
> Further information on Work: Anna Nicole
Photo: Eva Maria Westbroek (Wadey James)
> News Search
Mailing List
Sign up for news updates and offers via email
SIGN UP
ONLINE SCORES