Panufnik, Andrzej
:
Heroic Overture
(1952, rev.1969) 6'
for orchestra
Scoring
picc.2.2.2.bcl.2.dbn-4(6).3.3.1-perc(4):glsp/SD/TD/BD/tam-t/cyms-strings.
Abbreviations
(PDF).
Territory
This work is available from Boosey & Hawkes for the world.
Composer's Notes
My idea for
Heroic Overture
with its triumphant conclusion came to me in 1939 in Warsaw, after the Germans first attacked and met with the most heroic resistance from the Polish nation. At once my thoughts turned to the rousing widely sung patriotic song, 'Warszawianka' which seemed to embody the desperate yet still optimistic spirit of the moment. I did not wish to actually quote the melody or even to use elements of it in my overture — but I wanted to allow its spirit to pervade my own invention.
My first step was to find a harmonic-contrapuntal-rhythmic spine which could have been used to 'accompany' the song, but which I was going to take as my basic material. On to this rhythmic background, as a second step, I wrote the first theme of the overture – a counterpoint to 'Warszawianka' which thus remains un-cited, but is represented in this way as the driving power 'behind the notes'.
Unfortunately, however, I got no further than the outline sketches. Just at that time Poland was unexpectedly stabbed in the back by the Stalin-Hitler pact (in September 1939), so that I lost all my optimism about immediate defeat of the Nazis, and my idea to compose a work with a victorious conclusion disintegrated.
The scene in Poland rapidly became much more tragic than heroic: in my native city, where I subsisted throughout the War, we were every day terrorised by the German occupiers and sometimes at night attacked by Russian bombers. Wanting to be active in the Resistance, and my only weapon being music, I composed rousing patriotic songs under a pseudonym, and took part as a pianist in many illegal concerts organised secretly by the Polish Underground Movement, performing amongst others, works by Polish, Russian and Jewish composers which were banned by the Nazis.
However in 1952 I found my thoughts returning to the heroic theme of early September 1939 - l was wanting again suffering a different sort of foreign occupation, to express my faith in my people and their ability to survive as a nation. Obviously I could not openly express this purpose, so I wrote
Heroic Overture
ostensibly for the pre-Olympic Competition in Warsaw. It won first prize and was passed as suitable to show off Polish music abroad, and I was sent to Helsinki to conduct the first performance, but it was emphatically condemned inside Poland as 'formalistic' and 'decadent', and failed the special audition for inclusion in concert programmes in my native country. (Perhaps the politically 'trusty' members of the jury sensed that the trumpets at the beginning came in not from the 'socialist camp'!)
At last getting this overture on to paper, I was able to resuscitate from my memory its 1939 structure: not only the first thematic idea but also the second one, which is introduced by the violins, with woodwinds entering two bars later with the same melodic line but inverted. These two voices build up together - and then return to the point of departure in reverse: all the time on the rhythmical pattern of the basic theme but augmented to 3/2 meter. Following a succession of sharply dissonant clashes played fortissimo by the whole orchestra, at the end the victorious climax finally emerges in 'heroic' E flat major chords.
Andrzej Panufnik
Reproduction Rights

This programme note can be reproduced free of charge in concert programmes with a credit to the composer
Recommended Recording
Polish Radio Symphony Orchestra/Lukasz Borowicz
CPO 777 497-2
Click here to buy this CD from our Online Shop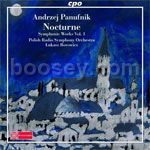 Mailing List
Sign up for news updates and offers via email
SIGN UP
ONLINE SCORES