Panufnik, Andrzej
:
String Quartet No.3 "Wycinanki"
(1990) 11'
for string quartet
Territory
This work is available from Boosey & Hawkes for the world.
World Premiere
15/04/1991
Barbican, London
Wihan Quartet
Composer's Notes
My
Quartet No. 3
emerged from my lifelong attachment to the rustic art of Poland – especially the paper-cuts, ("Wycinanki" in Polish) - symmetrical designs of magical abstract beauty and naive charm. Wanting to transmogrify these small geometric structures into sound, I allowed myself to imagine five paper-cuts from different areas of Poland, strongly contrasted to each other in shape and colour; each one also expressing the hidden character and temperament of the person who designed them. On this basis, the piece
was shaped into five miniature Studies, each testing different aspects of quartet-playing skills:
I
lento moderato
A study in the control of volume. The music is written on two planes: a rhythmical canon on the harmonics of the note G only, played vibrato with
crescendi
and
diminuendi
(constantly repeating the pattern of piano-forte-piano), superimposed on to a
mirrored melodic line performed
senza vibrato
and
sempre pianissimo
- without emphasis on any note. Calmness and dynamic precision are paramount.
II
andantino rubato
A study demonstrating the quartet's rhythmical flexibility, singing quality of sound and warmth of lyrical expression.
III
allegretto scherzando
A study in the nuances and variety of pizzicato playing, as well as the accuracy required in producing dynamic "terraces" (no
crescendi
or
diminuendi
) without the slightest change of speed. Joyous and dance-like in character.
IV
prestissimo possibile
A study in precision, vigour, power and technical brilliance. Throughout with furious agitation and utmost urgency.
V
adagio sostenuto
A study in fullest exploitation of the dynamic range, on the lowest strings. Structurally an arch, starting pianissimo through gradual crescendo to a maximum fortissimo, and back to the most extreme pianissimo.
Molto espressive e cantabile
throughout for violins, with the second violin shadowing the first with equal intensity.
Andrzej Panufnik


Reproduction Rights

This programme note can be reproduced free of charge in concert programmes with a credit to the composer
Recommended Recording
Chilingirian Quartet
(p) and (c) 1993 Conifer Records Limited
BMG Conifer CD 74321 16190 2
Click here to purchase this CD set from Amazon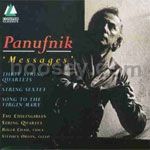 Mailing List
Sign up for news updates and offers via email
SIGN UP
ONLINE SCORES