Britten, Benjamin
:
Psalm 150
op. 67 (1962) 5'
for two-part children's voices and instruments
Music Text
(E)
Scoring
Chorus: SA with divisions; ensemble - minimum: 1 treble instrument-1 drum-1 keyboard instrument parts available: 2 treble instruments in C.2cl-hn.tpt (harmonica or oboe).trbn-timp.perc:cyms/tgl/SD/tamb-keyboard instrument-vla-bass instruments.
Abbreviations
(PDF).
Territory
This work is available from Boosey & Hawkes for the world.
Repertoire Note
Choral level of difficulty: Level 1-2 (5 greatest)
This setting of the great psalm of praise which concludes the Psalter is typical of Britten's compositions for schools. It was composed for the centenary of Britten's own prep school – Old Buckenham Hall School (called South Lodge School when he was there) – which he attended between 1923 and '28. As can be seen from the scoring details above it is intended that as many children as possible can be involved in the performance by playing a variety of instruments which are not specifically detailed. So, there are two 'treble instrument' parts which might be anything from a recorder to a violin or flute and a 'bass instrument' which might be a 'cello or a bassoon – and so on. The voice parts divide into four (a canon at 'let everything that hath breath praise the Lord') but are basically in two parts and there is a great deal of unison singing.
As one might expect, Britten makes full use of the different forms of praise described in the verses of the psalm to colour his composition. The delightful, dancing 7/8 rhythm of 'Praise him with the sound of the trumpet' makes an irresistible, light-hearted and toe-tapping section before the culminatory 'Let everything that hath breath praise the Lord'. A Gloria gives the work a suitably climactic ending.
This is another brilliant, flexible and involving work for children. At only six minutes duration it can form a magical item in a school concert without the additional challenges of scenery/choreography which some of his other works for young people can involve.
Repertoire note by Paul Spicer
Recommended Recording
New London Children's Choir/London Schools Symphony Orchestra/Steuart Bedford
(p) and (c) 2003 HNH International Ltd
Naxos 8.557203
To purchase this CD from our Online Shop, click here now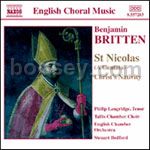 Mailing List
Sign up for news updates and offers via email
SIGN UP
ONLINE SCORES