Dean, Brett
:
Epitaphs
(2010) 20'
for two violins, two violas and cello
Territory
This work is available from Boosey & Hawkes der ganzen Welt.
World Premiere
12/07/2010
Pitville Pump Room, Cheltenham
Brett Dean, viola / Australian String Quartet
Composer's Notes
English
Im Kompositionsauftrag zu
Epitaphs
erkannte ich die Möglichkeit, die in Struktur und Klang erweiterten Möglichkeiten der Formation 'Streichquartett plus 1" zu erkunden, die vor mir schon Mozart, Schubert und Brahms faszinierte und zu einigen ihrer exquisitesten und tiefgründigsten Äußerungen auf dem Gebiet der Kammermusik führte. Das Werk wurde besonders durch die außergewöhnlichen Farbänderungen geprägt, die aus die Verdopplung der Mittelpartie erwachsen, mit dem Bratschenpaar, das als Gegenspieler zum im Streichquartett üblichen Geigenpaar fungiert.
Indes bot die Komposition mir zugleich die Gelegenheit, einigen Menschen – persönliche Freunde und gleichermaßen Berufskollegen – meine Reverenz zu erweisen, die während einer relativ kurzen Zeitspanne in den Jahren 2008/2009 verstarben.
Trotz der dunklen Tönung in Gegenstand und Absicht des Werkes ist beabsichtigt, daß diese Folge von Erinnerungsstücken ebensosehr wie als Ausdruck von Verlust und Besinnung als Feier von individuellen Qualitäten, Charakteristika und Errungenschaften gehört werden; von erfüllten ebenso wie von zu früh geendeten Lebensläufen.
Brett Dean
Programme Note
In
Epitaphs
erweist sich Dean als ein zutiefst empathischer Künstler: Die einzelnen Sätze sind klingende Nachrufe auf Freunde und Kollegen, die zwischen 2008 und 2009 starben. Fünf Menschen, fünf Sätze – fünf Instrumente: Dean verwendet – wie Mozart, Brahms und Bruckner – ein Streichquintett mit doppelter Viola. Die beredte, gestische Qualität von Deans Musik erweist sich aufs Neue in diesen Miniaturen.
Der erste Satz erinnert an die australische Schriftstellerin Dorothy Porter: "Only I will know" ist ein Zitat aus ihrem Gedicht
The Bluebird of Death
. Die sonore melodische Bewegung des Cellos wird durch die ätherischen Quintflageolette ins Unwirkliche gerückt. Zu "Walk a litle way with me" fordert die australische Anwältin und Autorin Lyndal Holt auf, die ihrer Krebserkrankung erlag. Aus einem geräuschhaften Beginn, bei dem die Streicher das Bogenhaar über das Holz des Instruments führen, erhebt sich eine energie- und lichtvolle Steigerung, die in höchste Höhen entschwindet. Den dritten Satz widmete Dean einem früheren Kollegen der Berliner Philharmoniker, dem Cellisten Jan Diesselhorst, liebevoll "Der Philosoph" genannt. Eingeleitet wird sein Epitaph daher mit einer Cellokadenz. Das Cello verbleibt im Lamento-Gestus, während die anderen Stimmen schattenhaft mit chromatisch abwärtsführenden Linien dahinfließen. Ein Akzent des Cellos beschließt den Satz – die entschwindende Bassstimme bleibt im Gedächtnis.
Hinter "György meets the 'Girl Photographer'" verbirgt sich eine doppelte Hommage: an den Komponistenkollegen György Ligeti und an die amerikanische Fotografin und Kunstmäzenin Betty Freeman, die auch Minimal-Music-Komponisten wie Steve Reich oder Philip Glass förderte. An deren motorischen Impuls erinnert der rhythmische Drive des Satzes ein wenig. Nur ein Glissando "wie ein Stöhnen" bremst die Energie der vorwärtstreibenden Sechzehntel. Das letzte Epitaph ist dem plötzlich verstorbenen britischen Dirigenten Richard Hickox gewidmet, der zuletzt als Künstlerischer Leiter der Australian Opera wirkte. Dean gibt diesem Satz ein Zitat aus seiner ersten Oper
Bliss
mit, als deren Uraufführungsdirigent Hickox vorgesehen war: "Ecstasy touched me ... I slid between the spaces in the sky." Dieses letzte Memorial beginnt mit fragilen, wie aus weiter Ferne kommenden Doppelgriffakkorden und einem Klagegesang der beiden Bratschen. Dann eine sich dramatisch aufbäumende Passage, schließlich ein stiller Abgesang, noch einmal im differenzierten Klangbild von Spieltechniken wie
flautando
und
sul tasto
.
(Dr. Kerstin Schüssler-Bach, 2015)
Press Quotes
English
"Wie Dean hier mit subtilsten Mitteln von der Unfaßbarkeit des Todes kündete, das verschlug einem schier den Atem. Chormatische Skalen und Glissandi abwärts gaben dem Leben auf Talfahrt bezwingende Symbolkraft, und dabei hatte jeder Satz in Ausdruck und Farbe seine unverwechselbare Charakteristik. Ein kammermusikalisches Meisterwerk."
(Volker Fries, Kölnische Rundschau, 18.09.2010)
Recommended Recording
Brett Dean / Doric String Quartet
Chandos CHAN 10873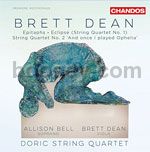 Mailing List
Sign up for news updates and offers via email
SIGN UP
ONLINE SCORES