ter Schiphorst, Iris
:
La Coquille et le Clergyman
(2004) 40'
for 12 instruments and soundtrack
Scoring
0.0.0.0-0.0.0.0-2 pft(prep).sample keyb-harp-eg-perc(2)-CD-str(1.0.1.2.1).
Abbreviations
(PDF).
Territory
This work is available from Boosey & Hawkes for the world.
Press Quotes
Deutsch
"The music of the Dutch/German composer Iris ter Schiphorst related to the film quite naturally... a genuine unity of image and music. Sometimes it follows the associations very precisely, sometimes it takes its own path. Ter Schiphorst manages to elicit a very individual sound from the instruments: thin and unreal. This fits the film superbly ..."
(NRC Handelsblad, 7 April 2005)


"The interwar years are one of the most exciting periods in the history of cinema. The young medium was a welcome playing field for the avant-garde of art forms in which the audience – whether in private circles or in public cinemas – was given the opportunity to watch radical or even scandalous things. Not long after making viewers acquainted with naturalistic celluloid representations of reality, the first artists set about thoroughly deconstructing their all-too-familiar viewing habits. When expressionism along the lines of Wegener, Murnau or Lang had become the stylistic mainstream, directors like René Clair, Fernand Léger and even agitprop artists such as Joris Ivens came up with short films which often caused a public stir.
Within this cinematic world, between expression and Dada, Charlotte Elisabeth Germaine Saisset-Schneider (whose pen name was Germaine Dulac) earns a special place. She was one of the first to introduce surrealist techniques into film-making. Whilst in Paris, she created an unsettling, egregious work which broke the barrier between the representational and the absurd in both form and content – and two years before
An Andalusian Dog
.
La Coquille et le Clergyman
(The Seashell and the Clergyman) is a psychoanalytic nightmare about sexual frustration and desire. In the very first sequence, the rather unspectacular entry of one of the three main characters is transformed into a horror scenario by extreme slow-motion: reality is disintegrating completely, giving way to visualised emotional states. People are crouched on ceilings, sharing heads along a vertical axis; desires flow out of people like ghosts while walls come loose from their foundations.
Each scene virtually overflows with visual showpieces such as double exposures, cross-fades, distortions and extreme contrasts of sharp and blurred images. Techniques like these are intended to visually externalise the troubled inner life of a clergyman who is pining after an unattainable beauty, challenged by a rival.
Another piece which tells a story in a much more convential, though similarly controversial way, is
L'invitation au voyage
(Invitation to a Journey), a work about the secret desires of a married woman for erotic change. We follow her to a dubious night-club, on a journey which forms not only the title of the work but also describes its psychological plot. The shy but adventurous woman gains the attention of a handsome captain but is dismissed when he, discovering that she is married, loses his affection for her.
The collage technique – less spectacular than that of
La Coquille et le Clergyman
but used in an equally skillful way – is focussed on the main characters and is rarely interrupted by visionary excursions. Avant-garde artists of the 1920s often used music to heighten the effect of their visual ideas. A striking example, apart from the collaboration between René Clair and Eric Satie, is Fernand Léger's and George Antheil's 'Ballet mécanique'. Germaine Dulac, who was drawn towards film by 'beautiful background music' (see fd 22/02), is another director who shows a strong affinity with music as an element of film. Unfortunately, no scores or musical sequences to her two short films have survived, and the music used today follows a 21st-century approach. Fortunately, however, the present work did not dismiss the classic chamber music instrumentation in favour of the synthesizer improvisations so often heard in today's silent film arrangements.
Due to its numerous dance sequences and conventional narrative structure, one would have expected the music for
L'invitation au voyage
to underline the plot, thereby highlighting the melodramatic, straightforward character of the film. However, while the 2002 score of Ensemble Modern oboist Catherine Milliken uses melodic fragments which – though indirectly – reflect the scenes through the musical mood, she avoids all-too-simple mirrorings of the narrative. Instead, her variations for clarinet, flugelhorn, low strings, percussion and piano translate the troubled emotions of the protagonist into music. The clarinet in particular functions very effectively as a seismograph for impulses that can otherwise only be surmised from the actors' expressions.
Iris ter Schiphorst takes a step further in terms of form in her score for twelve instruments which she wrote for the 2005 premiere of the restored version of
La Coquille et le Clergyman
in Amsterdam. Recurring to the atonal modernist music of the late 1920s by Schönberg or Varèse, the Hamburg-born composer abundantly exploits the rich associations of Dulac's imagery. The music, in analogy to the visual layer, time and again dissolves into exciting tone clusters, occasionally sneaking back into a sort of harmony. Schiphorst avoids any sense of predominance of the music over Dulac's film; neither does the music provide an explicit interpretation of the pictures. The two film scores, commissioned by arte, are excellent examples of how to give silent film jewels a new musical apparel without clothing them in fancy dress."
(Jörg Gerle, film-dienst 12/2005)
Recommended Recording
Asko Ensemble / Peter Rundel
arte / absolut MEDIEN 865 (DVD)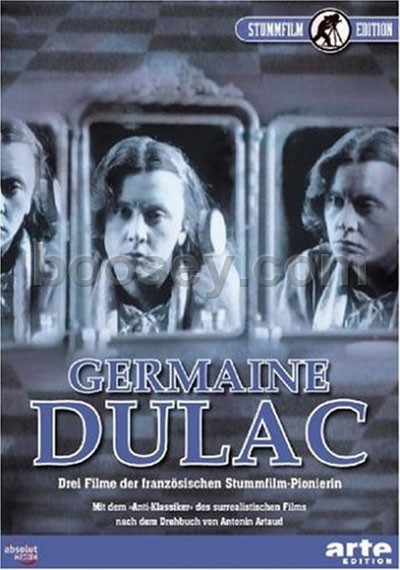 Mailing List
Sign up for news updates and offers via email
SIGN UP
ONLINE SCORES