Aktuell: HK Gruber
(October 2012)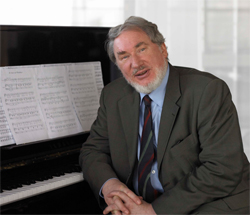 HK Gruber widmete sein neues Werk into the open... für Schlagzeug und Orchester dem Andenken seines Verlegers und Freundes David Drew, dem langjährigen Director of New Music von Boosey & Hawkes in London. Die weniger konzertante als symphonische Komposition im Charakter einer Prozession oder eines Rituals unterscheidet sich von Grubers eruptivem Schlagzeugkonzert Rough Music aus den 1980er Jahren; ihr Solopart verwendet vor allem auf Tonhöhen gestimmte, zum Teil auch exotische Instrumente, deren Klangfarben vom Orchester aufgegriffen und verändert werden. Solist der Uraufführung von into the open... ist der Star-Schlagzeuger Martin Grubinger, der schon Rough Music viele Male, oft mit dem Komponisten am Dirigentenpult, gespielt hat – eine CD nahm er für das Label BIS auf. into the open... erklingt im Februar im norwegischen Bergen sowie am 17.03.2013 als deutsche Erstaufführung in Köln, dort mit dem Gürzenich-Orchester unter Markus Stenz. Grubinger wird das neue Stück danach auch in Hamburg und Neubrandenburg vorstellen.

Im Januar 2013 geht das Mahler Chamber Orchestra mit HK Grubers 2007 vollendetem Stück Busking für Trompete und Kammerorchester auf eine Tournee, die nach Ferrara, Wien, Berlin, Luxemburg, Friedrichshafen und Baden-Baden führt. Solist ist Håkan Hardenberger, es dirigiert Andris Nelsons.

Grubers Erfolgsstück Frankenstein!! hat unterdessen im vergangenen Sommer seine 555. Aufführung erlebt – ein einzigartiger Rekord im Bereich der modernen Musik.
> Further information on Performance: into the open ...
> Further information on Work: Busking
Photo: HK Gruber (© Lucerne Festival)
> News Search