All Four Operas by David T. Little Performed in 2015–16 Season
(October 2015)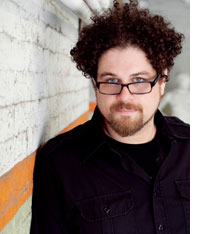 Theatrical works by David T. Little highlight a busy season.
The surge of interest around
David T. Little
and his music is spreading across America and Europe. After successful performances of his chamber opera,
Dog Days
, at Fort Worth Opera and LA Opera, as well performances of
AGENCY
by the Kronos Quartet and
HAUNTED TOPOGRAPHY
at the Cabrillo Fetival of Contemporary Music, under the baton of Marin Alsop, Little has made waves in every corner of the classical world. A testament to the enthusiasm for his music — especially, his theatrical works — all four of David T. Little's operas will be performed by various companies and presenters in the 2015–16 season, culminating with the much-anticipated premiere of Little's first grand opera,
JFK
.
In October, Boston University's Fringe Festival highlights a collaboration between David T. Little and librettist Royce Vavrek:
Vinkensport, or The Finch Opera
. This 2010 one-act work, primarily composed for students, employs six singers and an orchestra, and is based on the highly competitive Belgian sport of finch-sitting. In a note on the work, Little and Vavrek explain: "A motley assortment of contestants participate in their annual finch-sitting competition, a Belgian folk competition that pits chaffinches (and their owners) against each other in a battle to see who has the most melodious bird. The contest is run as such: a man waves a flag and each of the competitors sits in front of a box containing one of their fellow contestants' birds. Every time a bird makes a proper call (a susk-e-wiet, as it's called in these circles) they receive a tally mark. The bird with the most points wins, bringing much pride to its trainer. Although a seemingly simple and gentle competition, access to the competitor's inner monologues and flashbacks to their preparations reveal deception, deep-seated rivalries, painful loneliness, and blossoming romance."
Vinkensport, or The Finch Opera
is approximately 40 minutes in duration and will see four performances 9–11 October. (More information
here
.) A two-piano arrangement of
Vinkensport
is currently being created for opera companies that are unable to accommodate the full orchestra.
From 11–15 November, Little's gripping commentary on war and and its effect on the mind,
Soldier Songs
, will see four performances at Atlanta Opera. Scored for baritone and chamber ensemble,
Solider Songs
infuses elements of opera, chamber music, rock, and other styles to form a cerebral theatrical work. The work — specifically, its text — is based on the recorded interviews of six US veterans from different military engagements.
Soldier Songs
was commissioned by the Pittsburgh New Music Ensemble, which gave the world premiere in 2006. The work was given its first full production in 2011 at the International Festival of Arts & Ideas in New Haven, CT.
Soldier Songs
is approximately 60 minutes in duration. (More information
here
.)
This year's Prototype Festival, an annual breeding ground for contemporary opera, features Little's and Vavrek's hit chamber opera,
Dog Days
. Based on a short story by Judy Budnitz,
Dog Days
is set in a post-apocalyptic world amid family strife and devolving sanity. Says Little and Vavrek: "
Dog Days
is a contemporary opera that investigates the psychology of a working class American family against a not-so-distant-future wartime scenario. It asks: is it madness, delusion, or human / animal instinct that guides us through severely trying times? Where exactly is the line between animal and human? At what point must we give in to our animal instincts merely to survive?" This Beth Morrison Projects production runs 9–11 January (its New York City premiere).
Dog Days
, in three acts, runs approximately 120 minutes in duration and was commissioned by Montclair State University's Peak Performances. (More information
here
.) In addition to the performances at the Prototype Festival, the Theater Bielefeld in Bielefeld, Germany also hosts six performances of
Dog Days
(the European premiere) from 27 February through 22 April. (More information
here
.)
In addition, the long-awaited world premiere performances of David T. Little's first grand opera,
JFK
, take place 23 April, 1 & 7 May at Fort Worth Opera in Fort Worth, Texas. Another collaboration with Royce Vavrek,
JFK
explores the final hours John F. Kennedy spent in Fort Worth, Texas prior to his assassination in Dallas. Says Little and Vavrek: "This new grand opera explores the inner life of the President and Mrs. Kennedy during their final moments together... Drawing on real details of the Kennedys' final night, the opera uses dreams to create an imaginary time and space, allowing the couple to revisit those who helped to shape their personal and political lives. Jack travels to the moon with his sister Rosemary, where he spars with political rivals, and relives his courtship of the demure Jacqueline. Jackie sings a duet with her future self, Jacqueline Onassis, who dresses her in her iconic pink Chanel suit, assuring her that she has a part to play in the day's proceedings. Time is flexible in this drama; fate is not.
JFK
is a portrait of a precipice. The fleeting moments of hope before a cosmic page turned, optimism faltered, and America was forced into a new and uncertain era. The opera is a portrayal of the man as we project our hopes, dreams and fears upon him. It explores the sense of profound loss we still feel. It presents the innermost struggles of a fragile human, fated to an early demise, as time presses ever forward. And though the opera identifies with the emotions of President and Mrs. Kennedy, it is also our story. Drawing us ever closer to our destinies, and of that final moment, real or imagined." (View video:
The Making of an Opera
.)


JFK
was commissioned by Fort Worth Opera and American Lyric Theater and is approximately 120 minutes in duration. (More information
here
.)
> Further information on Work: JFK
> News Search
Mailing List
Sign up for news updates and offers via email
SIGN UP
ONLINE SCORES