Daugherty's Deus ex Machina on track around USA
(June 2007)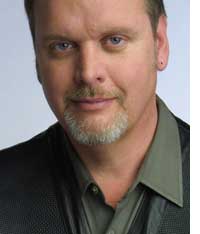 Daugherty's Deus ex Machina on track around USA
Michael Daugherty's new piano concerto, Deus ex Machina, was premiered on 16 March by Terrence Wilson and the Charlotte Symphony and rapidly travels around its co-commissioners, the Nashville, New Jersey, Rochester and Syracuse symphony orchestras, over the coming months.



For Daugherty the title conjures up the world of trains, and the music was initially inspired by images of speeding locomotives in paintings by European modernists.

The first movement, Fast Forward, explores the futurist concept that machine technology could create a universal culture. The composer writes how he created his own musical manifesto: "abstract musical lines, mechanical velocities, contrary vectors, polyrhythmic vibrations, and fragmented reverberations all move 'fast forward' to arrive at a modernist utopian future." The central slow movement, Train of Tears, depicts Abraham Lincoln's funeral train carrying his body from Washington through seven states to his home in Springfield, Illinois. Night Steam, the finale, was a response to 1950s photos of locomotives, rumbling and whistling their way "through the small towns and lonely back roads of the Shenandoah Valley into extinction."

Marin Alsop features Daugherty at the Cabrillo Festival on 4 August, including the Georgia O'Keeffe-inspired Ghost Ranch that she premiered last season with the Bournemouth Symphony Orchestra, and Raise the Roof for timpani and orchestra. Plans are underway for a new Naxos collection of Daugherty's orchestral works performed by the Detroit Symphony.
> Further information on Work: Deus Ex Machina
Photo: Grant Leighton
> News Search