David T.Little: JFK's last operatic night in Fort Worth
(June 2016)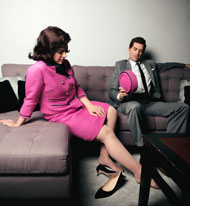 David T. Little's new opera JFK received its stage premiere in April in Fort Worth, the city where the president spent the last night before his assassination.
David T. Little may be best known for his hard-hitting, post-apocalyptic music theatre piece, Dog Days, but his first full-scale stagework, premiered in Fort Worth in April, reveals new dimensions to his operatic art. JFK, again created in collaboration with librettist Royce Vavrek, reflects on the presidential couple's final twelve hours in the Texan city, before Kennedy's assassination in Dallas. Past, present and future collide as dreams and fateful premonitions blur reality, with Little switching musical gears between outrageous satirical comedy and intimate reflections.

"An opera operating on many levels, it has something for everyone. While not mythologizing JFK and Jackie as Nixon in China does its protagonists, the new opera begins in the world of mythology. Jackie's hotel maid and Jack's Secret Service agent also represent the ancient Greek Fates, who spin and measure the thread of life. Through them, we enter the drama uneasily aware of the president's destiny… a fine cocktail for modern grand opera…"
Los Angeles Times

"…the drama and ideas flowed seamlessly, thanks not only to a beautifully structured libretto that pulls these ideas together, but a score in which a smooth quasi-minimalism provides a foundation for frequent journeys into radiant neo-romanticism. The constant inventiveness and musical impetus recalls Puccini, while the solid characterizations of both Kennedys evoke the fate-driven personalities of Verdi. And, the several grand choral scenes suggest both of those Italian masters… a musical and visual spectacle well worth the attention of any opera lover."
Dallas Observer

"Through surreal dreamscapes, Jack and Jackie revisit formative events in their lives… Little's best music comes in Part II, when we follow Jack and Jackie to a breakfast hosted by the Fort Worth Chamber of Commerce. Jackie arrives late, because in her hotel suite she is visited by the apparition of Jackie Onassis, who helps her younger self slip into the pink dress and coat. The scene flows from a haunting duet into a rapturous trio when joined by Clara, the hotel maid. Diffuse pungent orchestral harmonies, with pitches that split and chords that slide, cushion the tender vocal writing."
New York Times

JFK was commissioned by Fort Worth Opera and American Lyric Theatre with Thaddeus Strassberger's production travelling on to the Montréal Opera in a future season.

Little and Vavrek's Dog Days has recently received its first European performances with two German stagings in Bielefeld and Schwerin. Die Deutsche Buhne praised Little's "distinctive musical language: energetic, wild and rough-edged in equal measure, found in vibrant cantabile lines, with fascinating often magical sound mixtures". Neue Musikzeitung described how "David T. Little is regarded as one of the great hopes of modern music theatre for good reasons. Dog Days is sure to continue its success in Europe…"
> Further information on Work: JFK
Photo: Fort Worth Opera/Nine Photography
> News Search
Email Newsletters
Sign up for news updates and offers via email
SIGN UP
ONLINE SCORES