Dean's violin concerto on Lost Art of Letter Writing
(May 2007)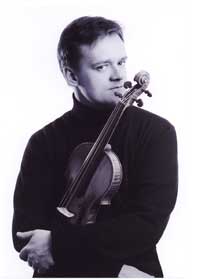 Brett Dean
's virtuosic new violin concerto,
The Lost Art of Letter Writing
, has already received performances from three orchestras, all featuring the work's dedicatee, Frank Peter Zimmermann, as soloist. Co-commissioned by the Cologne Philharmonie and the Royal Stockholm Philharmonic, the concerto was premiered in March by the Royal Concertgebouw Orchestra conducted by the composer, first as guests in Cologne and then in Amsterdam. Over the following month the concerto was heard in Munich and Berlin, with the Munich Philharmonic conducted by Jonathan Nott and the Deutsches Symphonie-Orchester under Manfred Honeck.
This autumn brings the Swedish and US premieres by the Royal Stockholm Philharmonic with Lawrence Renes (25/27 October) and the Boston Symphony Orchestra with Markus Stenz (1-3 November). With 12 concert dates scheduled across nine months the violin concerto is swiftly chasing the 14 performances of Dean's
Viola Concerto
that have been planned to date.
"Judging by Frank Peter Zimmermann's disciplined, yet powerfully convincing performance, Dean has written a work tailor-made for the violin. The solo part is certainly difficult, technically rewarding, yet without having to rely on any circus-like displays. Above all, the violin is allowed to indulge in idiomatic, and emotionally highly-charged monologues representing the outpourings of the various letter writers (including Brahms, van Gogh and Hugo Wolf) around whom the piece revolves."
Kolner Stadtanzeiger
"In this age of rapid fire SMS contact, the title of the concerto seems to express a sense of regret about the loss of an aspect of our culture. The letter represented in the finale, however, conjures more rebellious than poetic energies: an Australian outlaw accuses the powerful. So, after three relatively contemplative movements, comes a decidedly moto-perpetuo type finale in which Frank Peter Zimmermann demonstrates what he has to offer in terms of virtuosity, rhythmic energy and crystal clear sound production."
Bonn General-Anzeiger
"This half-hour concerto is a narrative. Its soloist tells the story of a dying form of communication, one letter per movement... Dean's string-writing is ferociously virtuosic, yet eminently playable. Zimmermann attacks his part with relish, and the poise to breathe life into the lyrical passages.
The Lost Art of Letter Writing
is all meaty honesty and no pretension, art without artifice."
Financial Times
> Further information on Work: The Lost Art of Letter Writing
Photo: Franz Hamm
> News Search
Mailing List
Sign up for news updates and offers via email
SIGN UP
ONLINE SCORES